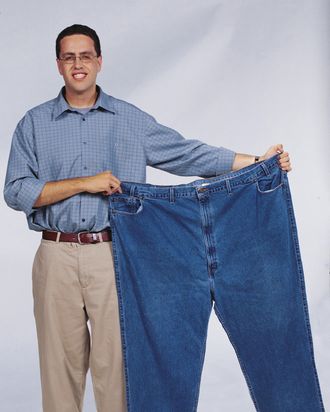 Photo: The Jared Foundation
Jared Fogel, creator of the Subway diet and bland sandwich spokesman for 15 years, had his home raided earlier this morning as part of a child-porn investigation. Fogel was never arrested and he eventually left his home in a car driven by his attorney. It's unclear whether Fogel is himself being investigated or if the raid is part of an ongoing investigation into the former executive director of Fogel's foundation. Russell Taylor, the erstwhile head of the Jared Foundation, which is dedicated to helping kids live healthier, thinner lives, was arrested in May on child-porn charges.
Fogel's attorney released a statement that said, "Jared has been cooperating, and continues to cooperate, with law enforcement in their investigation of unspecified charges, and looks forward to its conclusion."
Agents arrived at Fogel's giant house in the Indianapolis suburb of Zonsville at around 6:30 this morning and quickly began removing computers, DVDs, and other electronics. The Indiana Internet Crimes Against Children Taskforce set up a mobile lab in Fogel's driveway, where they're analyzing hard drives. The FBI and investigators from the U.S. Post Office were also on the scene. Fogel reportedly waited in the van while his house was being searched.
Indianapolis's WTHR reports that Fogel's wife and kid left the house shortly after the agents arrived. Not long after that, curious neighbors began milling about the street, telling reporters that Fogel was a good guy and he "always waved." One said Fogel trained for the New York City Marathon on a treadmill, which he thought was "kinda weird."
Just after noon, Subway released a statement. "We are shocked about the news and believe it is related to a prior investigation of a former Jared Foundation employee. We are very concerned and will be monitoring the situation closely. We don't have any more details at this point."