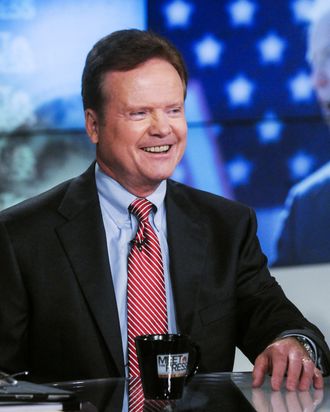 Photo: NBC NewsWire/2014 NBCUniversal Media, LLC
Former Virginia senator Jim Webb announced his presidential campaign today in a letter on his new campaign website. "I understand the odds," he writes," before previewing a list of issues he thinks will help differentiate him from Hillary Clinton, who has a huge lead in the Democratic primary polls.
He mentions foreign policy and his military background, and notes his opposition to the Iraq War, before segueing into a discussing of "economic fairness," "the need to fix our broken criminal justice system," and rebuilding infrastructure and education systems. "I am ready to fight on behalf of every one of these issues," he ends. "Will you help me do that?"
Voters may have a difficult time answering that question, as the biggest barrier to Webb's campaign — besides, you know, competing against Hillary Clinton — is the fact that more than half of Democratic voters have no idea who he is.  Or maybe the biggest barrier for Webb is the fact that he is currently battling former Maryland governor Martin O'Malley and former Rhode Island governor Lincoln Chafee for the chance to get more than 5 percent support in the polls. Meanwhile, Clinton has yet to drop below 50 percent. On the bright side for Webb, he has far fewer opponents than his fellow one percenters in the Republican primary — although toppling a front-runner with only a 13 percent lead is a bit easier to dream about than suddenly making a 50-percentage-point difference disappear.