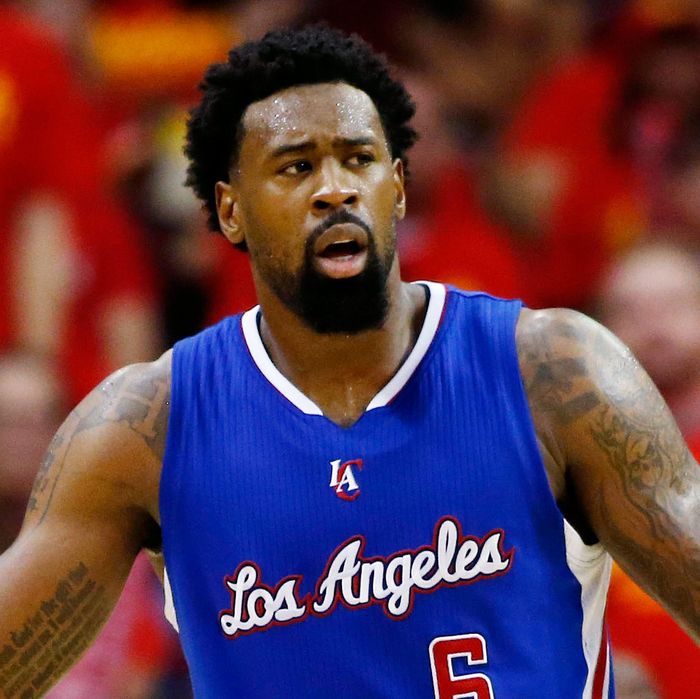 DeAndre Jordan, still a Clipper.
Photo: Scott Halleran/Getty Images
NBA free agents began negotiating with teams on July 1, but couldn't actually sign contracts until today. Usually, this is just a matter of paperwork: Players routinely agree to contract terms during that window and then finalize their deals once league rules allow them to. And so it's unusual that free agent DeAndre Jordan, who'd verbally agreed to sign with the Mavericks, changed his mind and ultimately re-signed with the Clippers. Even more bizarre, however, is how it happened.
Knowing that Jordan had agreed to a deal with Dallas, the Clippers sent a contingent to Houston, where Jordan lives, to try to convince him to back out of his agreement with the Mavericks. The Mavs mobilized and attempted to meet with him as well. All of this played out on Twitter, in emoji.
It began with this, from Dallas's Chandler Parsons:
Then came this from the Clippers' J.J. Reddick:
And this from Blake Griffin:
And this from Chris Paul, referencing his well-publicized banana boat ride with LeBron James, Dwyane Wade, and Gabrielle Union earlier in the week.
Griffin, Paul, and Reddick, along with veteran Paul Pierce and coach Doc Rivers, made it to Jordan's home, and made their pitch to win him back. Reportedly, it didn't actually take all that long:
But the Clippers, having already convinced Jordan to come back, remained in Jordan's home until midnight, when he could officially sign — essentially surrounding him so the Mavs couldn't try to get him to change his mind once again.
Jordan reportedly wouldn't even take phone calls from Cuban or Parsons. ESPN's Chris Broussard tweeted that Cuban was "beside himself," driving around Houston begging Jordan's family for the free agent's address. Of course, it's hard to believe Cuban wouldn't already have that, and indeed, the Mavs owner replied to tell Broussard that was "the dumbest shit I've ever heard."
Meanwhile, back at the Jordan home, the Clips had literally barricaded the door shut, if only for Twitter photo-op purposes:
Ultimately, the Clippers got their man:
If the hype of The Decision was a new low for NBA free agency, the unexpected madness of yesterday might have been a new high point.