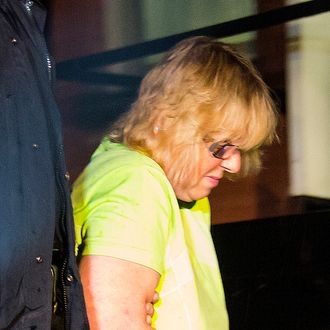 Photo: Eric Thayer/Getty Images
Joyce Mitchell, the prison seamstress who pleaded guilty on Tuesday to helping Richard Matt and David Sweat escape from Clinton Correctional Facility, spoke with investigators at length about her role in the strange prison break. NBC News obtained some of the statements and reported all the seamy details today, which make it seem even more unbelievable that no one knocked over this Jenga tower of a plan.
"I was caught up in the fantasy," Mitchell told authorities. "I enjoyed the attention, the feeling both of them gave me, and the thought of a different life."
This whole saga began when Matt asked Mitchell, who worked with him in the prison tailor shop, to call his daughter and see if she received a painting he had sent her. Matt was a minor celebrity in the upstate New York prison for his portraits. 
This led to boxing gloves, brownies, an unexpected kiss, a fulfilled request for oral sex, touching genitals through a coat with a hole in it, bringing Matt glasses with lights on them for late-night "painting," sneaking in saw blades — for building frames for "paintings" — inside frozen hamburger meat that Matt told guards was for goulash, and a promise to bring a Jeep, fishing poles, tents, a GPS, and a shotgun somewhere outside the prison late on June 5,  but only after Mitchell gave pills to her husband, Lyle, whom prisoners' nicknamed "the Glitch."
Obviously the last item on that list never happened; Mitchell instead went to the hospital because of her panic attacks. When investigators got in touch the following day, she fibbed. By the end of the weekend, however, Mitchell began explaining her role in the escape. 
As for why she left the prisoners to their own devices, leaving the inmate she initially helped dead, and the other inmate, whom she sometimes sent suggestive messages and photos to, once again imprisoned, and in solitary confinement instead of honor block? "I really do love my husband and he's the reason."
She could face up to seven years in prison, and is scheduled to be sentenced in September.