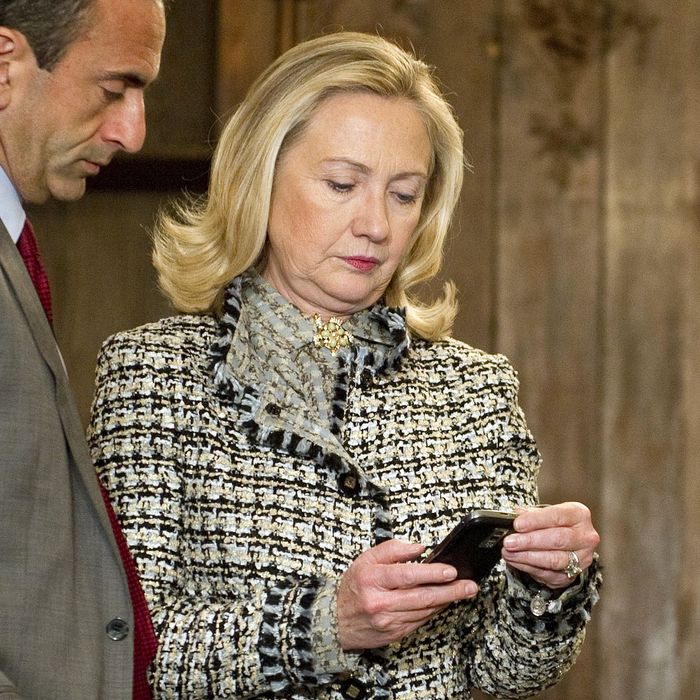 US Secretary of State Hillary Clinton looks at a phone message with Assistant Secretary of State for European Affairs Philip Gordon during the 48th Munich Security Conference at the Bayerischer Hof hotel in Munich, Germany, on February 4, 2012.
Photo: JIM WATSON/AFP/Getty Images/2012 AFP
Four months after we first learned about "emailgate," on Tuesday night the State Department finally released the first batch of Hillary Clinton's emails. The roughly 3,000 pages include every email Clinton sent during 2009, her first year as secretary of State … minus all the bits redacted by the State Department … and the thousands of emails Clinton staffers deemed personal, which were later deleted from her private server. While there are undoubtedly teams of people scouring the documents for information that will torpedo Clinton's 2016 bid, so far the most significant findings are that controversial aide Sidney Blumenthal was sending her advice soon after she became secretary of State, and top White House staffers at the time, including David Axelrod and Rahm Emanuel, were aware that she was using a personal email address.
Those hoping to find a smoking gun will probably have to wait for next month's dispatch, but there are still plenty of fascinating Clinton tidbits in Tuesday's release. You can search the archive yourself, or just peruse the juiciest messages below. Some people said the whole emailgate scandal was a distraction from the real issues facing our country, but we think they'll change their tune once they read Clinton's nickname for Senator Dianne Feinstein, and more of her private thoughts on home furnishings.
Clinton heard about a cabinet meeting on the radio and got worried that everyone was hanging out without her:

Then she got stood up by the entire cabinet, confirming her worst fears:

A few months later, Clinton used a Richard Nixon burn to mask her anxiety over her comparative lack of Oval Office time:

Clinton's FOMO is more understandable when you learn that Bill Clinton agreed to be United Nations special envoy to Haiti without consulting her or the White House: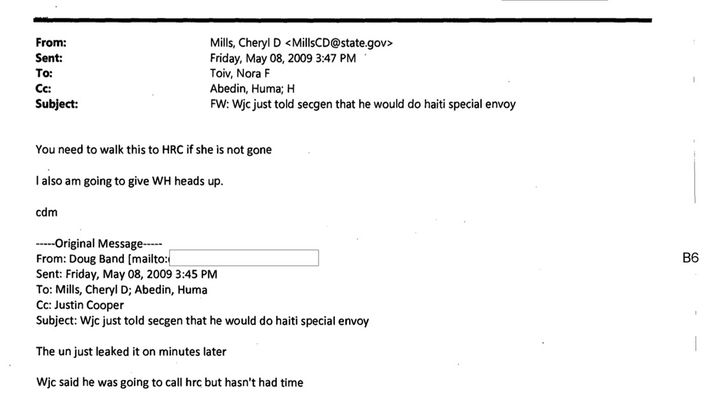 Top aide Huma Abedin didn't think Clinton would be excited about a late-night phone call from Al Gore:

Yet she was on good terms with her Bush administration counterpart, Condoleezza Rice:

The award for most surprising appearance by a 2016 rival goes to Senator Lindsey Graham — and despite what you're likely to hear in the coming year, he's a big Hillary fan: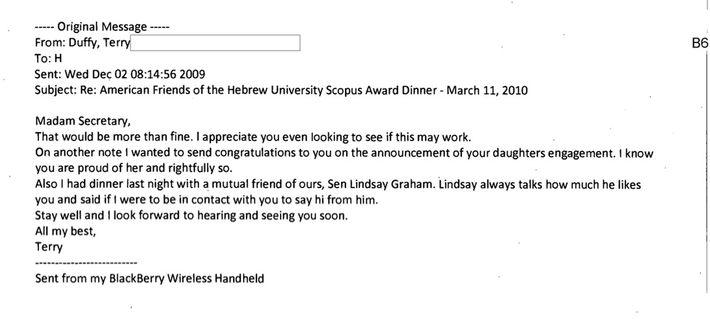 Back in 2009, Clinton liked Syrian dictator Bashar al-Assad enough to send him a condolence letter, but not enough to write it herself: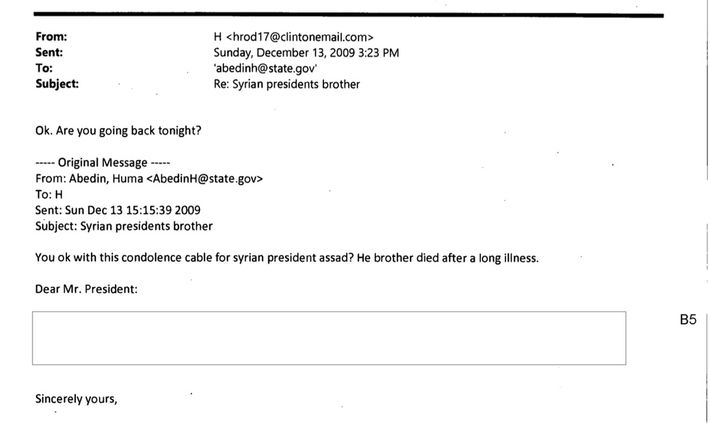 Cliffhanger: You'll have to read the next batch of emails to find out whether Hillary and Huma ever figured out how to use the fax machine: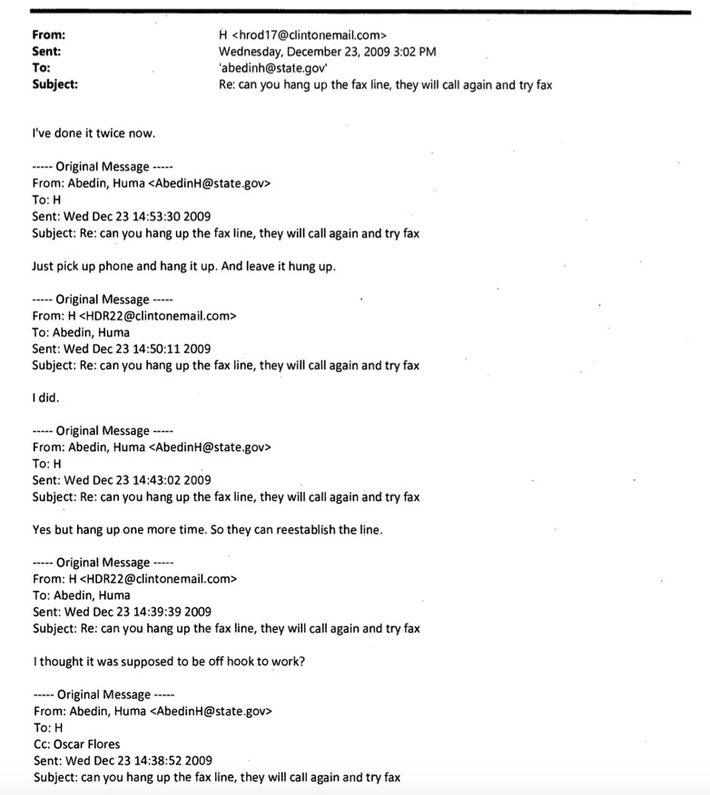 Clinton wants the world to think she's a "techie," though she frequently asked aides to print out her emails so she could read a paper copy:

Clinton's staffers weren't "techies" either, as evidenced by their use of the term "twittering." (In their defense, it was 2009.)

But Clinton did give Senator Dianne Feinstein the tech-saavy nickname "DiFi":

When Clinton fractured her elbow, Senator Barbara Mikulski expressed sympathy for her inability to do lady things. (And by the by, our elected representatives were totally winging it on the public option in the Affordable Care Act!)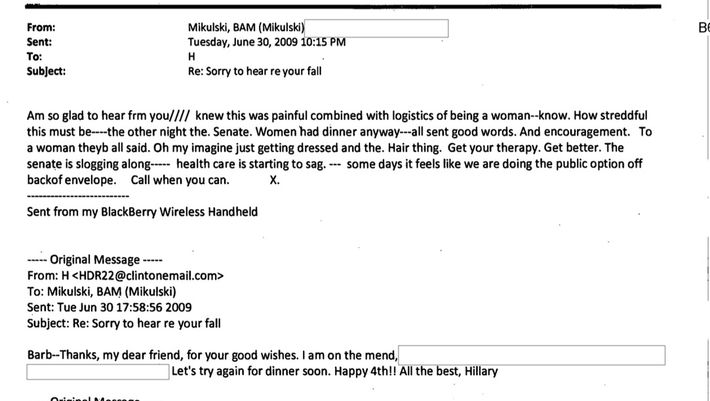 But it wasn't all broken elbows and awkward chats with Al Gore. One time Parade Magazine promised to do a flattering feature on Clinton and give her the final say on what went in the piece: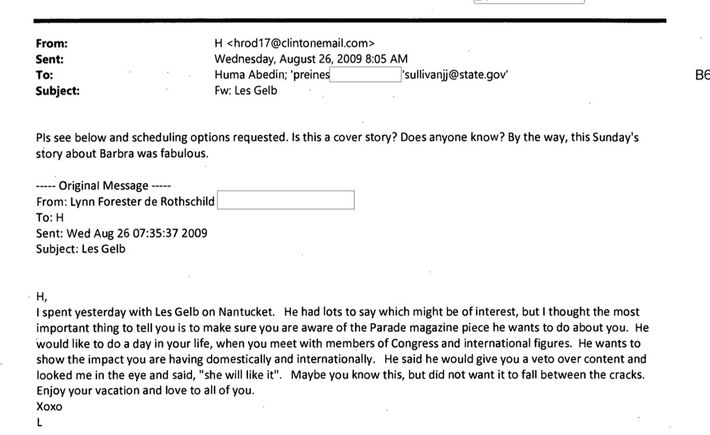 Clearly, being secretary of State has its perks, such as directing underlings to track down that rad rug you saw during your trip to China.