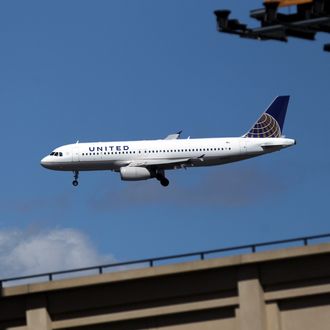 Photo: Nick Laham/Getty Images
Are you planning to fly somewhere for the Fourth of July weekend? Was your flight disappointingly expensive? 
The Justice Department noticed.
The Department has started a civil antitrust investigation into several yet-unnamed airlines. Investigators hope to find out whether these airlines let each other know about added flights and extra seats, in an effort to keep the number of open seats low and prices high.
About 80 percent of all domestic passengers ride American Airlines, Delta Air Lines, Southwest Airlines, or United, thanks to a number of mergers that have happened in the past seven years. Before the Justice Department approved these mergers, they had some worries about fare prices. When American Airlines and US Airways tried to merge back in 2013, former Attorney General Eric Holder said, "This transaction would result in consumers paying the price — in higher airfares, higher fees and fewer choices." The regulators and the companies eventually reached a deal. 
The lack of other competitors and very cheap fuel — the biggest costs airlines have to worry about — have helped these carriers make record profits. At the same time, fares just keep getting more expensive, and new fees on checking bags and changing reservations keep appearing. These airlines have made $3.6 billion on checked-bag fees alone in the past year.
In June, Senator Richard Blumenthal wrote a letter to the Justice Department's antitrust division saying that airlines should be investigated for possible collusion. "Consumers are paying sky-high fares and are trapped inside an uncompetitive market with a history of collusive behavior," he wrote. The ongoing investigation predated this letter, according to The Wall Street Journal. Airline stocks took a dip this afternoon after the investigation news was reported.