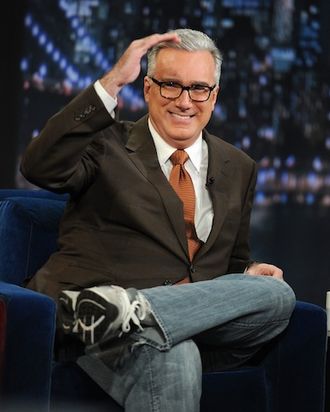 Sun rises; sun sets; Keith Olbermann departs another cable-TV network. ESPN announced in a statement yesterday that the broadcaster's time at the Worldwide Leader in Sports is once again coming to an end. "While the show's content was distinctive and extremely high quality, we ultimately made a business decision to move in another direction," the statement said.
Olbermann has been hosting an eponymous show on ESPN2 since 2013. It included highlights from the day along with Olbermann's trademark, loquacious eviscerations of people he deems the worst. Turns out those moments, which were always the show's most watchable, were what ultimately led to the breakup. A report last week said the network asked Olbermann to stop with the commentary. He refused.

It was the unrelenting criticism of Roger Goodell and the NFL that reportedly caused the rift, though ESPN denies any issue with the content of Olbermann's commentaries. Still, it's hard to imagine this kind of thing sitting well with the same ESPN brass that let Bill Simmons go for crapping on the commissioner. ESPN has now, in the past two months, dropped two of its most recognizable faces and two men who, whatever their faults, at least tried to bring thoughtful commentary to the network. Meanwhile, Berman, Bayless, and Smith remain gainfully employed.