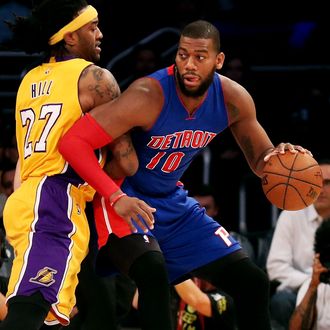 Greg Monroe.
Photo: Stephen Dunn/Getty Images
NBA teams can start negotiating with free agents today, and so far, the Knicks have been quiet. Because they have so many holes to fill, the Knicks had been linked to lots of players in recent days, but in the opening hours of free agency, they've so far watched defensive standout DeMarre Carroll agree to a four-year deal with Toronto, Danny Green agree to remain with the Spurs, and Jimmy Butler stay in Chicago. The Knicks have some $27 million to spend, and Phil Jackson's made it clear that his priority is signing big men. (Keep in mind that 7-foot-1 Kristaps Porzingis, the team's first-round pick this year, is a project who isn't expected to contribute much immediately.) But it doesn't appear the Knicks will be making a splashy move today.
This isn't totally unexpected. Adrian Wojnarowski, the respected Yahoo NBA reporter, said on Monday that the Knicks were the front-runners for Greg Monroe, as well as guard Arron Afflalo. Both remain possibilities, but both are considered second-tier free agents. Monroe is believed to be their top realistic target: He's a good passer who'd be a nice fit in the complicated triangle offense, and at 6-foot-11 he'd bolster the Knicks' weak frontcourt. The fear with Monroe, however, is that he's a poor defender (a skill at which the Knicks are generally lacking) whom the Knicks will overpay for out of desperation to sign somebody, anybody. The team reportedly met with him after midnight, when teams were allowed to begin negotiating with free agents. (The Knicks are reportedly also interested in Robin Lopez, who could be a good fit for the right price.)
Some of the other players on the Knicks' radar are considered long shots: There's DeAndre Jordan (who seems likely to go to the Mavericks if he leaves the Clippers at all) as well as LaMarcus Aldridge (who they're expected to meet with tomorrow, but whom the Spurs have the inside track on by all accounts). Meanwhile, David West, the 34-year-old who opted out of his contract with the Pacers, is reportedly not interested in signing with the Knicks because they aren't close enough to contending.
The Knicks have plenty of other needs, too, from a quality swingman to depth on the perimeter. And they need players comfortable on a roster where Carmelo Anthony is already established as the focal point of the offense. But luring free agents to New York won't be easy. Unlike in the Summer of LeBron in 2010, when Donnie Walsh tried to sell free agents on what playing in New York could mean for them in terms of building their personal brand, Jackson is reportedly pitching free agents this year by focusing on the organization's on-court strategy and his own history of success, albeit as a coach and not an executive. Unsurprisingly, though, there are doubts that Jackson will be able to convince free agents that the Knicks, who went 17–65 last year, are on the cusp of winning. Even Carmelo Anthony has reportedly been recruiting players targeted by the Knicks in advance of the opening of free agency. At this point, anything's worth a shot.
Via The Wall Street Journal, at the moment the Knicks have just three players signed to fully guaranteed contracts for next season, so they will eventually be making quite a few moves this summer. And making splashy panic moves, as the Knicks did with Amar'e Stoudemire back in 2010, would be worse than standing pat and showing patience. Jackson has said he won't necessarily spend every dollar under the cap during free agency, which would give the Knicks some flexibility in the near future. It's been clear for a while now that Jackson won't be turning around the Knicks overnight. But with things happening quickly so far on the first day of the 2015 free-agency season, Knicks fans are still waiting to see exactly what his plan is.