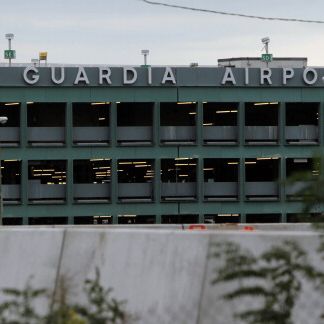 The New York area's most convenient, least charming airport just got one step closer to its long-awaited overhaul. In a Monday press conference, Governor Cuomo unveiled the details of the $4 billion plan to tear down and rebuild La Guardia Airport, which he described as "un-New York" in that it is "slow, dated," and "almost universally derided." Vice-President Biden, who once compared LGA to "a third world country," was on hand to help.
Cuomo said that La Guardia's four separate terminals are set to be replaced by a single big, fancy one. In addition to the previously announced AirTrain connection to the 7 and the LIRR, the 75-year-old airport will get a high-speed ferry that will operate out of its existing Marine Air Terminal. From Gothamist:
The new design, compiled by the board using elements of entries to a competition, moves the terminal 600 feet closer to the Grand Central Parkway and provides 240 percent more space for airplanes to move around, according to Cuomo. Delta owns terminals C and D but has agreed to redevelop its portion in tandem with the state. The $4 billion redevelopment of terminals A and B is half-funded by private contractors, who will operate and profit from the new facility.
The plan also calls for new parking areas, a "world-class retail and hotel complex," and, as Biden put it, 8,000 "middle class jobs, jobs you can raise a family on." Construction is supposed to begin in the summer of 2019, with an end date sometime in 2021 (though, as with almost any project of this magnitude, it'll likely take a bit longer than scheduled). In the meantime, enjoy those water stains and the M60 bus.