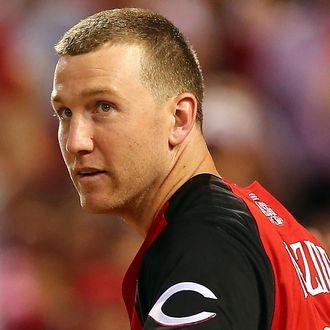 Todd Frazier.
Photo: Elsa/Getty Images
There are a few interesting things going on in tonight's Major League Baseball All-Star Game: More than 30 players made the team for the first time this year, and the pregame festivities will include an appearance by Pete Rose, baseball's disgraced all-time hit leader, who will take part in an on-field ceremony honoring the best players in Reds history despite his lifetime ban from the sport. (You'll be seeing a lot of Rose tonight: He'll be part of Fox's pregame broadcast crew, as well.) But no matter what happens tonight, it'll be hard to top last night's newly imagined Home Run Derby.
The Derby has gotten increasingly stale over the years. Even when it worked, it didn't: In 2008, when Josh Hamilton put on the best performance in the history of the event at old Yankee Stadium, he didn't actually win, because of the format used at the time. The Home Run Derby is supposed to be pure candy — unlike the All-Star Game itself, which has stupidly counted for something ever since it began determining which league gets home-field advantage in the World Series in 2003. And we saw last night how a format change could make the Derby fun again.
In previous years, players were allowed a certain number of "outs," or swings that resulted in anything other than a home run. Such a format meant players wouldn't swing at pitches they didn't think they could drive and slowed the event down. But this year, the league used timed rounds, allowing hitters to swing as many times as they could before the clock ran out. Players were paired off in a bracket format that allowed for the possibility of a buzzer-beater home run.
The new format also emphasized monster blasts: Distances were tracked in real time, and long homers could earn a player bonus time.
The league even caught a couple of breaks: It further modified the rules hours before the event began, because of a forecast of rain, and the revised rules made the event even better. Five-minute rounds became four-minute rounds, which meant less fatigue, and it still felt like plenty of time. The bonus rules were simplified, too, with a player earning an extra 30 seconds if he hit two home runs over 425 feet. The league also lucked out with the ultimate winner: hometown favorite Todd Frazier, who gave Cincinnati fans someone to cheer for. Frasier won in dramatic fashion, edging out Dodgers rookie Joc Pederson in the final round to become just the second player to win the Derby on his home field.