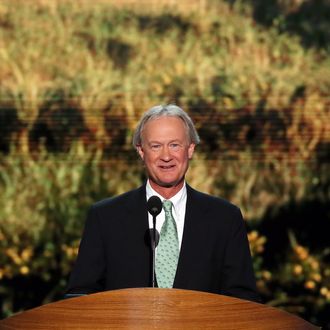 Photo: Alex Wong/2012 Getty Images
A month after former Rhode Island governor Lincoln Chafee announced his presidential campaign, one rich donor — and only one — has emerged to rescue his long-shot bid: Lincoln Chafee. 
His latest filing with the FEC shows that he has raised slightly more than $28,000, which, as Politico notes, is more than 500 times less than what Vermont Senator Bernie Sanders has raised and far less than what several long-shot 2016 Senate and House candidates have managed to raise so far.
Even the guy who wanted to raise money to make a bowl of potato salad managed to find more backers than Chafee has.
Chafee's poll numbers are currently so low that his support is usually measured in asterisks instead of percentages. He has loaned his campaign more than $300,000 so far and has had to use his credit card to pay for his Facebook account, according to Time — the same Facebook account that his wife was scrambling to find the password for the week before his campaign announcement. 
It is unclear whether his inability to raise money is owed to the fact that America is not ready for his visionary plan to introduce the metric system or whether he might be handicapped by the fact that more than 60 percent of Democratic primary voters have no idea who he is. 
It may be time for Chafee to send out that fund-raising pitch signaling his desire to raise $10 to make a liter of Waldorf Salad.