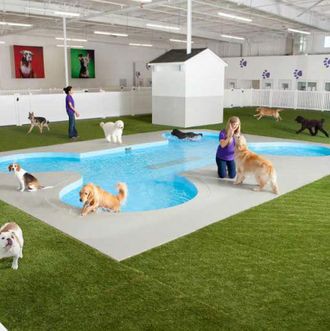 Photo: Courtesy of Paradise 4 Paws
JFK International Airport is opening an exciting new terminal in 2016, where consumers can wait for flights while watching TV, swimming, and getting a haircut. Unfortunately, these luxury facilities will not be open to you, since you can read and probably have opposable thumbs. 
The new terminal is set to be the "world's only privately owned animal terminal and USDA-approved, full-service, 24-hour, airport quarantine facility for import and export of horses, pets, birds and livestock," according to developer Racebrook Capital. It will be called "the ARK," since, like Noah's, this terminal will reward select animals with life-enriching travel accommodations while punishing most humans by forcing them to wait out salvation in Terminal C as the unholy intermingling scents of Sbarro and Starbucks overtake their senses. 
The animal terminal will even feature a 20,000-square-foot "resort" run by company Paradise 4 Paws. It will house a bone-shaped pool for dogs, "pawdicures," suites with optional flat-screen TVs that run as high as $100 a night, and webcams so pets can say hi to their owners. The entire complex will cost $48 million.
The reaction of these CBS6 newscasters probably sums up how you feel about this story. 
JFK was already home to a "wooftop" terrace for four-legged JetBlue customers. Other airports are providing on the fancy animal travelers front, too — the Frankfurt Airport in Germany has the Animal Lounge, run by Lufthansa. More than 100 million animals go through the airport annually; 80 million of which are fish, few of which are polar bear actors. The facility's project manager told The Wall Street Journal in 2013, "It's a lounge just like the lounges we have for passengers. You stay here for a few hours and relax and then connect to another flight. Only there are no cushions."
Even before the new terminal was announced, JFK already dealt with much of the world's animal air traffic at Animalport, which has been open for decades and providing fodder for amusing animal-interest stories for just as long — it once even co-starred in a scene in the Marlon Brando and Matthew Broderick movie The Freshman. Long before anyone knew that pets would one day be able to get massages at the airport, Animalport was jokingly called, "Hilton for animals."
In 1970, the New York Times published a story titled, "For the Animal That Travels — A 'Motel' At JFK."
The Animalport examines, feeds, exercises and houses tigers, polar bears, snakes, cattle, horses, dogs, cats, seals, tropical fish, apes, parrakeets, porcupines and baby hippos and elephants. … An animal escape anywhere on the field brings [workers] on the run. One of the toughest was a big alligator that got loose in the cargo area when his crate was dumped off a truck and was smashed. … The impromptu posse tossed a heavy cargo net over the alligator; the gator caught it with his tail, flipping it off like a hairnet. No one ventured near that lashing tail; one flick can break a man's leg. At the eating end, the gator's jaws gaped like the bucket of a power shovel.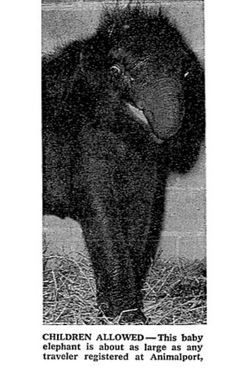 A 1992 story on the facility noted that "some of its more exotic visitors: leopards, drills, cougars, aardwolves and a bear that would eat only raisin and cinnamon bagels." Two years earlier, Animalport hosted a lion that had been confiscated from a car-repair shop in Yonkers. 
Given that JFK's new animal facilities will have horse showers, private penguin sex dens, and a cat adventure jungle, it seems doubtful that bemusement with animal travel will end anytime soon. 
Recently, Animalport, now called Vetport, has been criticized for being run poorly, surely one reason that the new terminal is being built. The other reason being that people will spend ungodly amounts of money on their pets; don't forget, New York is already home to a cat café and a luxury pet hotel. Crain's talked to David Lang, founder of Brooklyn-based Pet Chaffeur, about the new terminal. "I feel the Ark is validation of what I've been doing for a long time," Mr. Lang said. "You hear stories about the crazy money that rich people spend on their pets, and I can only tell you they're mostly true."