During Sunday's national referendum in Greece, voters may send the troubled nation on a permanent path away from the European Union, and at competing rallies last night in Athens, tens of thousands protested both for and against accepting a bailout package to keep the country solvent and a part of the eurozone. But while the confusing international politics and economics of the Grexit crisis is surely the most important aspect of the story, the personal impact of such upheaval and uncertainty, as felt by ordinary people, can be difficult to comprehend. Yesterday, photojournalist Sakis Mitrolidis captured a moment in Greece that, at least in part, helped address that problem. In the image, a sobbing elderly man has collapsed, his savings book thrown to his side, outside a bank in the city of Thessaloniki.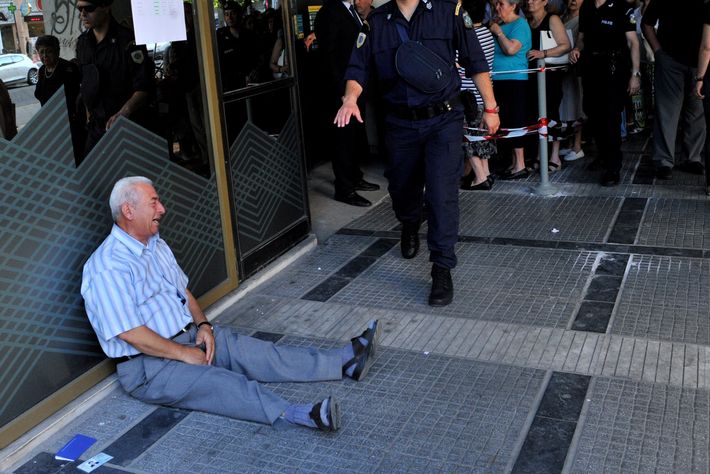 All banks in the country had been closed on Monday, but some were eventually allowed to reopen so retirees without bank cards could withdraw their pensions, though those payments were capped at 120 euros (roughly $133). The man in the photo, who Agence France-Presse has now identified as 77-year-old Giorgos Chatzifotadis, was one of those retirees. Chatzifotadis had visited four banks in the city trying to withdraw a pension payment on behalf of his wife, and it was after the fourth rejection that he lost his composure.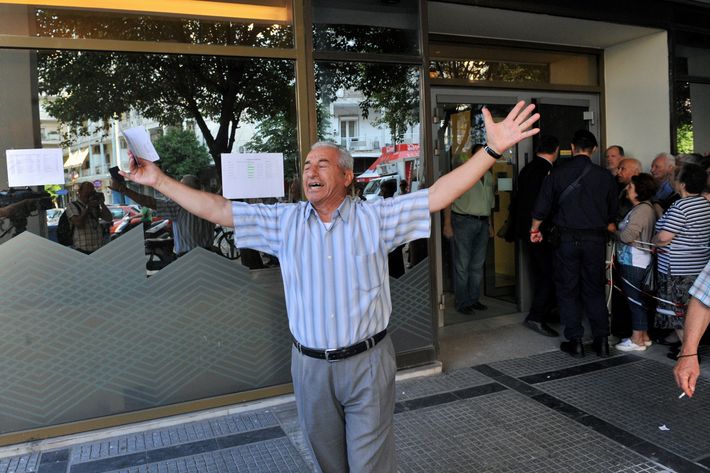 Chazifotadis told the AFP that he has been overcome worrying about the distress in Greece, "That's why I feel so beaten, more than for my own personal problems." He continued, "I see my fellow citizens begging for a few cents to buy bread. I see more and more suicides. I am a sensitive person. I can not stand to see my country in this situation."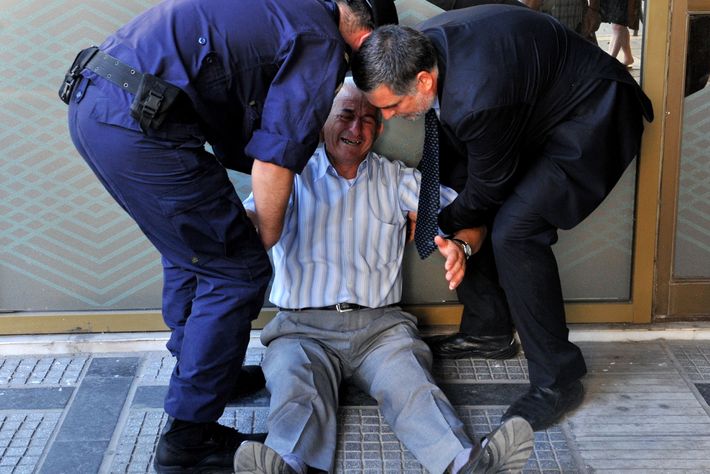 He and his wife had "worked very hard" in Germany for several years, and that was where the pension payment he was trying to collect had come from. "Europe and Greece have made mistakes. We must find a solution," he said of the crisis.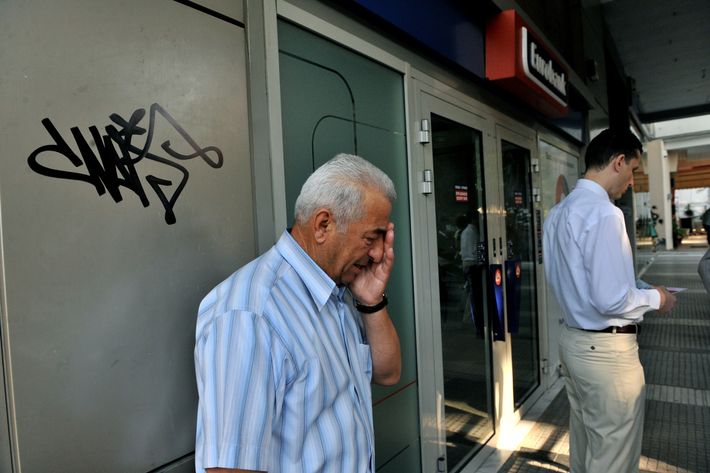 When asked if he would vote in the referendum on Sunday, Chatzifotadis said he couldn't afford to travel the 50 miles to get to the polling station, but his children might be able to drive him.