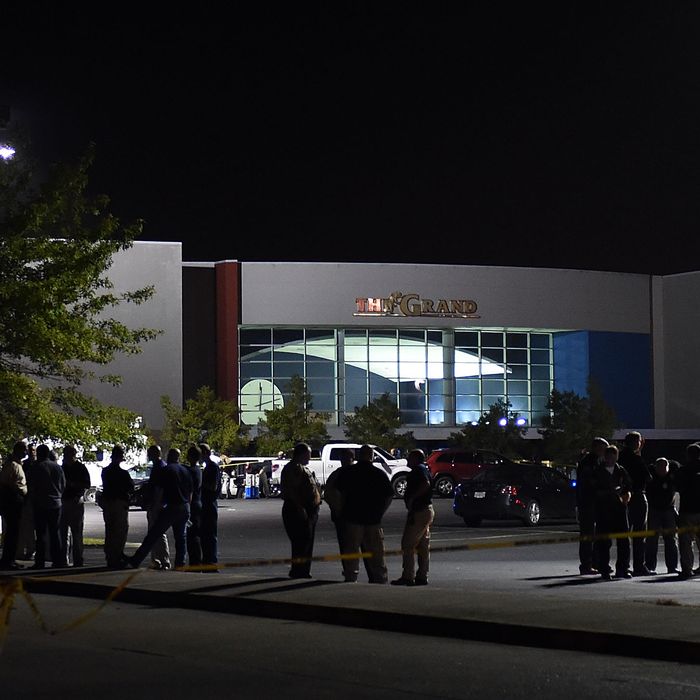 Police work outside of the Grand Theatre on July 23, 2015 in Lafayette, Louisiana.
Photo: Stacy Revere/Getty Images
Three people were killed and nine were injured in a shooting Thursday night at a movie theater in Lafayette, Louisiana. Police were on the scene several minutes after the shooting started, and they found the gunman dead of a self-inflicted gunshot wound. The two victims who died are 21-year-old Mayci Breaux, who died at the theater, and 33-year-old Jillian Johnson, who died at a nearby hospital. One of those injured is in critical condition; two other victims are well enough to have been released from the hospital. 
Lafayette police chief Jim Craft called the scene "pretty horrific."
The gunman was described as a 59-year-old "lone white male" with a criminal history — but no arrests in the past ten years. On Friday, he was identified as John Russell Houser from Phenix City, Alabama, 500 miles away. He had been staying in a Motel 6 in the area for a few weeks; police found wigs and disguises inside his room, and a car with switched plates parked out front. Police officials assume that Houser meant to escape after the shooting; his blue Lincoln Continental was parked near an exit, and his disguises were waiting back at the hotel. 
Police say he had once been married and had an uncle from Lafayette who died 35 years ago. He had been estranged from his family. NBC News reported that he claimed to own two pubs in Georgia, and appeared on local TV show Rise and Shine occasionally. On Houser's LinkedIn page, he said he "invited political controversy on every one of them, and loved every minute of it."
The show's host, Calvin Floyd, told NBC News, "He was very entertaining. He made for good TV and when it was over, you would leave shaking your head." 
>
He was on from time to time because he was a very radical person with radical views. He was a Republican and then I would have someone with a real strong Democrat view on. His father was tax commissioner in the county. That's how I knew him, but I had him on my show because he was a very radical person.
Witness Katie Domingue told the Daily Advertiser that the shooting occurred at the 7 p.m. showing of Trainwreck. About 20 minutes into the film, she saw "an older white man" stand up and start shooting. "We heard a loud pop we thought was a firecracker," she said. "He wasn't saying anything. I didn't hear anybody screaming either." She bolted for the exit, leaving her shoes and purse. Houser used a .40 caliber handgun, hitting the people in front of him first. He shot 13 rounds. 
Around 100 people had been watching the movie. 
Thirty-two-year-old Josh Doggett, who had been on a date with his fiancée, told NBC Los Angeles that "a lot of the people thought it was part of the film" at first. "There was a pause but then when the second happened, everyone started climbing over the seats." Doggett described the shooter as "kind of a middle-aged gentleman in a polo shirt."
Witnesses in adjacent theaters said they heard faint gunshots and took off running after they were told over the intercom to evacuate. Jalen Fernell, 20, said once he exited the building he saw one of the victims. "I saw a woman lying on the ground outside with blood everywhere. She was shot in the leg," Fernell said. Theatergoers scattered again as they saw armed police charging into the building. "We didn't know what to do. You're scared to walk through the parking lot, you don't know if the guy's in a car, hiding in the parking lot," Fernell said.
Authorities assume that Houser was attempting to escape when police arrived on the scene about a minute after the shooting, according to the Daily Advertiser. He instead retreated back into the theater and shot himself. 
State police, the FBI, and the Bureau of Alcohol, Tobacco, Firearms and Explosives were on the scene in Lafayette, a city of about 120,000 located in southwestern Louisiana. At a press conference, Governor Bobby Jindal said, "As governor, as a father and a husband, whenever we see these senseless acts of violence it makes us both furious and sad at the same time." He added, "We will get through this. We are a resilient community. This is an awful night for Lafayette. This is an awful night for Louisiana. This is an awful night for the United States."
Jindal also described the heroic actions of two teachers, who were identified by a colleague as Jena Meaux and Ali Martin. Meaux reportedly jumped on her friend to shield her, and while they were both injured, Martin said she believes the action saved her life. Then Martin, shot in the leg, pulled the fire alarm. "A lot of folks in that situation would just be thinking about themselves," Jindal said. "She had the presence of mind to think, all right, even though she was shot in the leg, she saved other people."
The Iberia Association of Educators and Louisiana Association of Educators set up a GoFundMe account to help pay for the teachers' health care — they have raised more than $5,000 already, according to the Daily Advertiser. "They did what teachers do," Iberia Parish Superintendent Dale Henderson told the newspaper. "We do a lot of crisis training with our teachers, that maybe it's become kind of an instinct for them. When they sense there is going to be some kind of danger or emergency situation, they go into teacher mode. They protect."
Amy Schumer, who wrote and stars in Trainwreck, tweeted:
Jillian Johnson was a well-known business owner in Lafayette. She owned the Red Arrow Workshop with her husband and ran T-shirt business Parish Ink with her brother, according to the Daily Advertiser. She was also a member of Lafayette-based band the Figs. A tribute for Johnson was posted on Red Arrow Workshop's Facebook page: "Our hearts are shattered. We will love you forever. She was a once-in-a-lifetime gal. A mother, daughter, sister and a truly exceptional wife. She was an artist, a musician, an entrepreneur and a true renaissance woman."
Mayci Breaux was from Franklin, Louisiana, and worked at coco eros, a women's clothing store in Lafayette. The store posted about Breaux's death on its Facebook page: "Nothing ever prepares you for a loss … Much less the loss of such an amazing young woman." She also attended LSU-Eunice. One of her instructor's at the school's radiologic technology program, Robert McLaughlin, told the Acadiana Advocate, "She had great potential, I was sure she was going to go far."
The shooting — which comes three days after the third anniversary of the Aurora, Colorado, theater shooting and just weeks after the shootings in Charleston, South Carolina, and Chattanooga, Tennessee — had many talking about gun control on Thursday night. Louisiana has relatively lax gun laws and one of the highest rates of gun deaths in the nation. It's also one of only four states where homicides make up a larger share of gun deaths than suicides.
In an interview with the BBC recorded just hours before the Louisiana shooting, President Obama said he's "frustrated" by his failure to get stricter gun laws passed, and he intends to keep pressing the issue.
"If you ask me where has been the one area where I feel that I've been most frustrated and most stymied, it is the fact that the United States of America is the one advanced nation on Earth in which we do not have sufficient commonsense gun safety laws even in the face of repeated mass killings," he said, adding that far more Americans are killed by gun violence than by terrorism. "For us not to be able to resolve that issue has been something that's distressing, but it's not something I intend to stop working on in the remaining 18 months."
Obama was briefed on the shooting from Air Force One; he was on his way to Africa. He told officials to keep him updated on the status of the victims, and offered his thoughts and prayers for the people in Lafayette.
This post has been updated throughout.