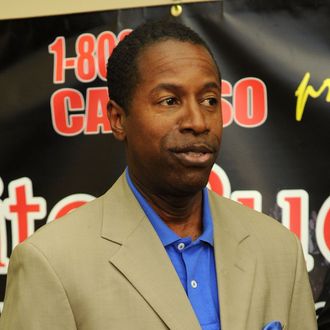 New York State Senator Malcolm A. Smith attends the Tito Puente tribute concert press conference & reception at the Law Offices of Ferro, Kuba, Mangano, Skylar, P.C. on July 15, 2010 in New York City.
Photo: Bryan Bedder/2010 Getty Images
Think back a few Albany scandals and you may recall the tale of Malcolm Smith, the Democratic state senator from Queens who was caught making payments to city GOP leaders in an attempt to bribe his way onto the 2013 Republican mayoral ticket. Smith, who was briefly majority leader of the New York State Senate, was convicted on federal corruption charges in February and sentenced to seven years in prison on Wednesday. The maximum penalty for his crimes, which include bribery, wire fraud, extortion, and conspiracy, was 20 years. U.S. District judge Kenneth Karas said he took into consideration that Smith "didn't line his pockets," he just really, really wanted to be mayor of New York City.
In a letter sent to the judge last month, Smith said he's a "humbled and broken man," but he didn't exactly say he's sorry. He described dreaming of being an elected official since he was a young child, and said he was motivated by a desire to do good. "Was I 'greedy' for power?" he wrote. "Is that why I wanted to be mayor? No. … What excited me, what filled me with hopefulness — and yes, pride — was the opportunity I had to help others."
Judge Karas said that didn't excuse the fact that he was engaging in "good, old-fashioned bribery." "The person who benefited the most in this scheme is the one who wanted to be the mayor, even if he wanted to be a good mayor," Karas said.