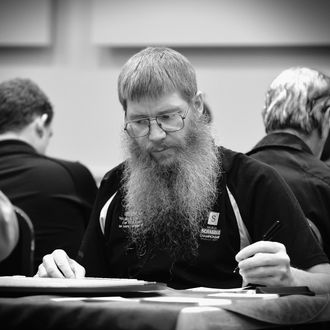 World Champion Nigel Richards in action during rounds 1 to 3 of the 24-round Scrabble Champions Tournament.
Photo: Gareth Cattermole/Getty Images
Yesterday morning, Nigel Richards was considered the greatest English-speaking Scrabble player in the world. Today, he is also perhaps the best French-speaking Scrabble player in the world, the only problem being that he can't speak French. 
Richards's friend Liz Fagerlund told the New Zealand Herald, "He doesn't speak French at all, he just learnt the words. He won't know what they mean, wouldn't be able to carry out a conversation in French I wouldn't think."
The five-time USA National Scrabble Championship winner won the French Scrabble Championship on Tuesday after reportedly memorizing a French dictionary in nine weeks. Although the New Zealander — who now lives in Malaysia — does not know enough French to go into a store in Paris and ask where he might find the board-game section, he was able to successfully challenge his opponents when they tried to deploy incorrect words.
Here is some footage from the action-packed finals.
According to a 2010 profile in the Sunday Star Times — in which a fellow Scrabble competitor said Richards was "like a computer with a big ginger beard" — the champion's mother notes that his recreational consumption of bon mots is a defining character trait. "If you asked him how the Crusaders went, I don't think he'd know who they were. I don't think he's ever read a book, apart from the dictionary."