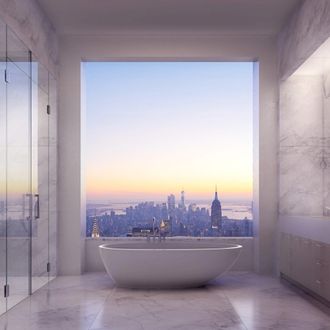 How much would you pay for this view?
Photo: Dbox for CIM Group and Macklowe Properties
It's been yet another record-breaking three months for Manhattan's real-estate market, according to brokerage reports released today. The average price of a Manhattan apartment is now $1.872 million, a new high.
But behind all the headline-grabbing numbers — the Corcoran Group's survey also saw the median-price-per-square-foot set a new peak at $1,231 — is a developing stalemate between buyers and sellers that's hampering the market. "There's a kind of clash [between them]. They're just not in sync," says Bess Freedman, managing director of sales at Brown Harris Stevens. "Sellers have these unrealistic expectations. They refuse to reduce their prices and they won't negotiate and buyers are unwilling to pay these really expensive prices and … they're frustrated and are opting out of the market sometimes."
That would explain a 20 percent drop in transactions, according to a Douglas Elliman report — from 3,342 the same period last year to 2,674 this year. And though inventory has loosened up a bit (up 9.3 percent over last year), there aren't enough apartments on the market to break the standoff. "Sales are declining not because people aren't buying but because there's not a whole lot to buy," says Elliman CEO Dottie Herman, either because what they want isn't available or is overpriced.
Stiff competition is making the market even more untenable. "This is a miserable time," says Jonathan Miller, who authored Elliman's report. "It's not panicked like in the last housing boom, but [buyers are finding that] they're competing with six other people." And consider this statistic: According to Miller, 50.5 percent of closed sales went at or above the asking price — the highest since the financial crisis began. "It's an affordability problem, and that's holding back sales," he explains. "You have low supply pushing prices higher" — and not just in the luxury new development category, but also "in the mere mortals market, [where] that knocks people out."
Some sellers who have entered the market aren't being realistic, emboldened perhaps by news of high-flying deals in the super-luxury segment — a $100.47 million apartment closed earlier this year at One57 — so what they have to offer doesn't necessarily address buyers' needs. 
According to Brown Harris Stevens, the absorption rate — how long it'll take for all active listings to sell — for properties is now at five months (four months for co-ops), indicating seriously brisk business since a healthy market takes about six to nine months. Still, Diane Ramirez, CEO of Halstead Property, says if sellers, especially in the $5 million and under market, don't get a real offer three months after putting their apartments up for sale, it's a sign they're being overambitious about their pricing. (A quick check on StreetEasy shows 4,017 properties on the market asking $5 million and under; 404 of them were listed more than six months ago.)
So why aren't homeowners rushing to put their apartments up for sale if it's a seller's market? Because they then would become buyers grappling with the same issues. "If you bought something, you're going to get a lot of money, but then you'll have to buy something else," explains Herman. (She says those who sell in the city and move elsewhere where prices aren't as heated fare the best under current market conditions.)
Ramirez recommends buyers shop where the inventory is, like the Upper East Side, which has more properties available than its counterpart across the park. If you were hoping Upper Manhattan would be the answer, you'll need to act quickly: Compass's numbers show the area setting a new median price record at $580,000, up 8 percent from last year. In fact, per Brown Harris, it may be "the tightest market in Manhattan," with an absorption rate of 3.1 months.