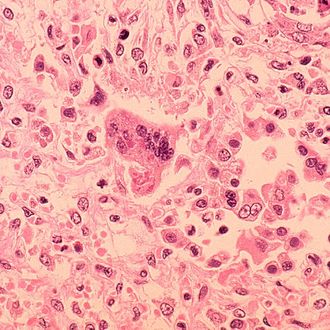 A young woman died from a measles infection this spring in Washington State, the first reported U.S. death from the disease since 2003, according to that state's Department of Health. While fatalities from the disease are rare, health officials pointed out that the woman, who was herself vaccinated, was especially at risk because of a weakened immune system from another illness. Noted the officials, "People with compromised immune systems often cannot be vaccinated against measles. Even when vaccinated, they may not have a good immune response when exposed to disease; they may be especially vulnerable to disease outbreaks."
Officials believe the woman, who has not been identified, caught the disease from another patient at a health clinic where she had been treated. Thankfully, there have been no new measles cases reported in Washington State since April, though, as the Centers for Disease Control and Prevention point out, there have now been 178 cases of the disease in the U.S. so far this year, after a record 668 cases in 2014. The majority of these infections have afflicted people who were not vaccinated against the disease.
National Geographic's Maryn McKenna reminds us why the woman's death is important, especially at a time in which "protection afforded by measles vaccination is crumbling in the US, thanks to parents who have been given bad information turning away from the vaccine":
When people prevent or delay their children's vaccinations, it isn't only their children they put in danger. The fence of protection that vaccine-induced immunity throws up around all of us protects not only those who are vaccinated, but those who can't be: infants too young to get the vaccine and anyone who, like the Washington woman, possesses an immune system undermined by medical treatment or biological hazard. (And, most of the time, older people whose immune systems are decaying—but not in the case of measles, because anyone born before 1957, when measles was common, has natural immunity to the disease.)
News of the woman's death also caps a week in which California governor Jerry Brown signed a bill to mandate stricter school vaccination rules in his state, following an outbreak at Disneyland last December that infected 140 people. The new law makes the state the largest in the country to require vaccinations for schoolchildren unless there is medical reason not to, ending exemptions for personal or religious reasons. Only two other states, West Virginia and Mississippi, have instituted similar requirements.
Anti-vaccine activists, spurred by widely discredited claims that vaccines against measles and other diseases can cause autism or other illnesses, have vigorously protested such mandates. One of them, actor Jim Carrey, caused a firestorm earlier this week when he called Governor Brown a "corporate fascist" for signing the new law, which passed with significant support in the California State Legislature.