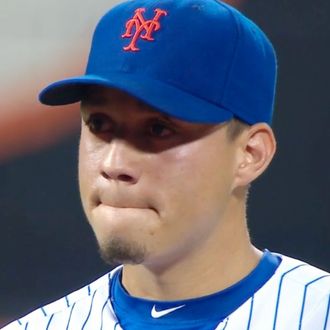 The Major League Baseball trade deadline is tomorrow, and the Mets have been active over the past several days, acquiring Juan Uribe, Kelly Johnson, and Tyler Clippard. Last night at around 9 p.m., reports circulated on Twitter that they'd made another, even bigger move, trading Wilmer Flores and Zack Wheeler to Milwaukee for centerfielder Carlos Gomez. These weren't rumors of a trade, either; the deal had reportedly been done.
Curiously, though, Flores stayed in the game, even though it's standard procedure for a player to be pulled from a game if he's being traded elsewhere. Word of the trade made its way into the Mets dugout, where Flores learned he'd be leaving the organization he'd been with since signing as a 16-year-old in 2007. Fans in the stands had heard the same reports and gave Flores a nice ovation when he batted in the seventh inning, and again when he took the field in the top of the eighth. Flores teared up in the field, believing his Mets career was about to end.
Here's a longer video of Flores's at-bat and subsequent half-inning in the field:
But then things got really weird: After the trade had been confirmed to reporters (including by a "a high-ranking team executive" who spoke to the Times), the deal fell apart. Via the Times, trades aren't considered official until teams can review any medical issues involving the players, and in this case, "questions were apparently raised that caused either the Mets or Brewers to ultimately back out of the deal." According to that report, it's unclear whether the Brewers pulled out because of concerns over Wheeler (who underwent Tommy John surgery earlier this year), or whether the Mets pulled out because of concerns about Gomez.
Even stranger is that while word of the reported trade spread around the Mets dugout, manager Terry Collins says he didn't hear it and was confused as to why one of his players was weeping on the field.
"Someone came to me and said, 'Wilmer's crying,'" Collins told reporters, recounting a conversation that had taken place in the dugout during the game. "I said, 'Why?' Well, he got traded. To who? For what?"
Said Mets general manager Sandy Alderson: "Unfortunately social media, etc., got ahead of the facts, and it may have had an adverse effect on one of the players rumored to be involved."