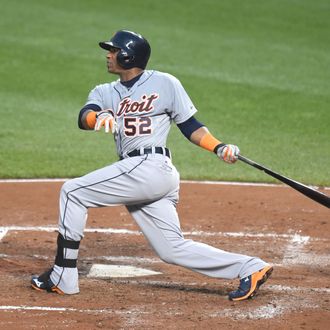 Yoenis Cespedes.
Photo: Mitchell Layton/Getty Images
Even with the the additions of Juan Uribe and Kelly Johnson last week, the Mets badly needed to upgrade their offense at the trade deadline. Because for all the talent in their rotation, the Mets are ranked dead last in the majors in runs scored (and team batting average, and team OPS). Mets fans had been screaming for GM Sandy Alderson to make a meaningful deal at the July 31 trade deadline, and just before it past at 4 p.m. this afternoon, he did just that, acquiring Yoenis Cespedes from the Tigers for double-A pitcher Michael Fulmer and triple-A pitcher Luis Cessa. Not part of the trade: Zack Wheeler, the Mets pitcher who would have been part of the failed Carlos Gomez deal.
Cespedes batted .293 with Detroit this season, with 18 homers and an OPS of .829. No qualified Met has better numbers in any of those categories this year. (Via ESPN, Cespedes's eight homers this month are two more than all Mets right-handed hitters combined.) He's also attractive to the Mets and their self-imposed payroll constraints because he doesn't require a huge financial commitment: He's a free agent after this year, so all they owe him is the rest of his $10.5 million 2015 salary. Of course, this means Cespedes could prove to be a rental who signs elsewhere in the off-season, but as Joe Sheehan pointed out, he was the impact player available at the deadline who is owed the least guaranteed money.
The Mets have 60 games remaining and are currently three games behind Washington in the National League East, and 4.5 back in the Wild Card standings. Give Alderson credit: The Mets were too close to sit tight at the deadline, and most of his moves were aimed at addressing their biggest flaw. But the Cespedes trade especially signals that he's serious about making a postseason run this season — and gives Mets fans a reason to believe over the final two months of the season.