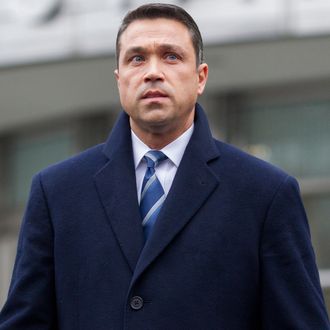 Photo: Michael Graae/Getty Images
Former representative Michael Grimm was sentenced to eight months in prison on Friday, after pleading guilty to a federal tax-evasion charge late last year. 
Grimm resigned from his seat shortly after winning reelection in 2014. Dan Donovan, the district attorney in charge of the Eric Garner investigation, now represents the district.
Grimm's lawyers had hoped to avoid a stint in prison; they argued that the Staten Island politician was "tremendously remorseful over his offense" and "will live with the shame of it the rest of his life." A federal investigation into Grimm's campaign fund-raising ended with charges accusing Grimm of paying employees at his Manhattan restaurant Healthalicious off the books — and thus avoiding taxes. 
"All my life I have scraped and I have clawed and I have killed myself to better myself," Grimm said shortly before his prison sentence was announced. Before serving in Congress, Grimm was a Marine and FBI agent. "Give me the opportunity to redeem myself."
"Your moral compass, Mr. Grimm, needs some reorientation," Judge Pamela Chen told Grimm, who once told a reporter at the Capitol, "I'll break you in half. Like a boy."