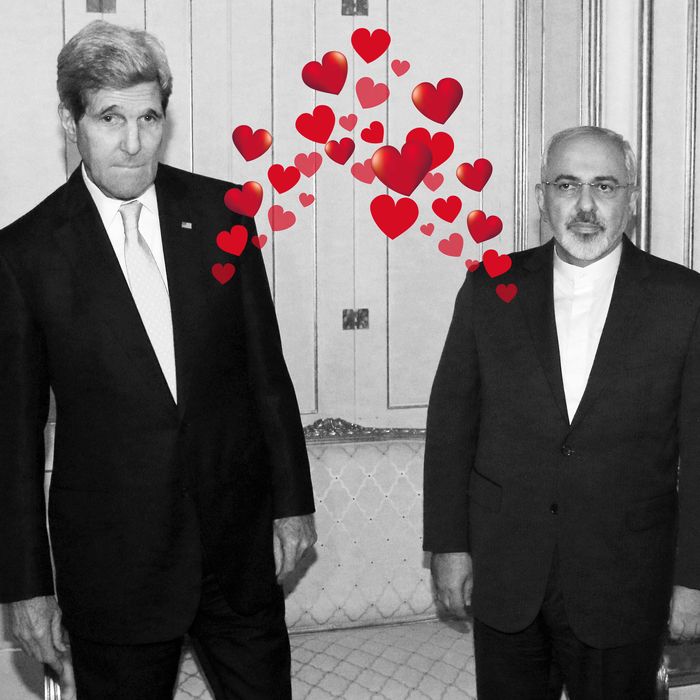 Photo: Ronald Zak/AFP/Getty Images
No one knew whether this would work. They fought all the time. They never agreed. Their friends hated the idea of their relationship. Their families got along worse than the Montagues and Capulets. 
Despite all that, the U.S. and Iran managed to build something lasting — a nuclear agreement that is far from perfect, but that they both hope is better than being apart. 
The road leading to this highly emotional moment was paved on a path of bridled passion and pairings that exist in the space somewhere between meet-cutes and meet-hates. Here is an assortment of the most romantic moments of the negotiations.
The prudish may want to avert their eyes; this list features rampant diplomatic wooing, long hotel vigils, and violence involving weapons of mass seduction. Sometimes, quotes may have been taken out of context for comedic effect. 
Secretary of State John Kerry Loves Dinner and Wine With Secretary of Energy Ernest Moniz
"He enjoys an evening of conversation, a bottle of wine, and a great meal. And sitting around and talking about a lot more than nuclear programs … He's very good company."
Moniz Explains Why He and Kerry Are Like Those Old Couples in When Harry Met Sally
"You could easily imagine how something like that would not work. But reality is — and maybe it's partly based upon our long relationship — but I think both of our personalities, we have no problem whatsoever.''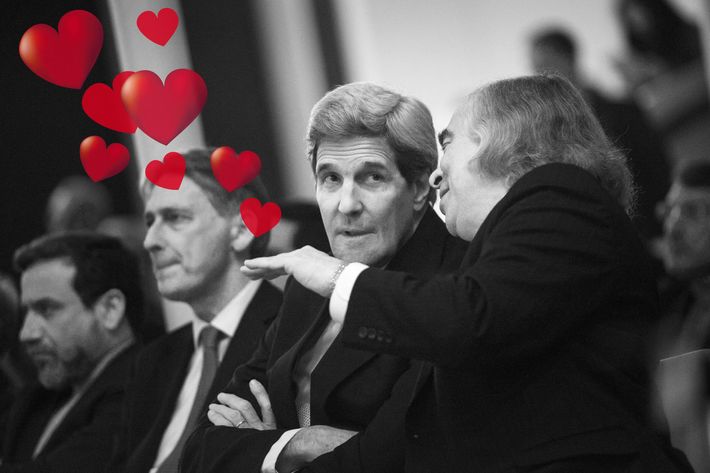 Kerry on His Connection With Iranian Foreign Minister Javad Zarif
"We laughed and we smiled."
The Two Hardly Ever Left the Hotel
"Kerry and Zarif, in particular, had barely left the Vienna hotel where their conversations were held for more than two weeks while the world outside debated their efforts." 
"Their Exchanges Were Often 'Heated and Passionate'"
"These two emissaries met at least 23 times, spending 22 hours face-to-face. Their exchanges were often 'heated and passionate,' in the words of Mr Kerry – so heated, in fact, that last Monday an aide hastened into the room to inform both men that half of the Palais Coburg could hear them shouting. They bargained late into the night, but the two men never seemed to become sick of one another."
'The Whole Hotel Could Hear You'
"Frank-Walter Steinmeier, the German foreign minister, said, tongue in cheek, to Kerry the next day, 'Seems like you had a constructive meeting last night; the whole hotel could hear you.'" 
Kerry's Charms Became Legendary in Switzerland
"But here in Switzerland, where he is attempting to negotiate a nuclear deal with Iran, Kerry seems to have found his target audience. Swiss French-language daily 24 heures dubbed Kerry a "weapon of mass seduction" on the front page of their Tuesday edition."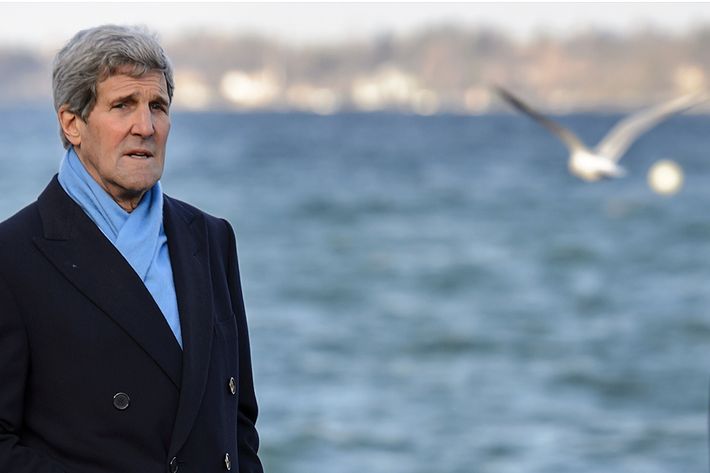 Kerry Woos the Sultan With Historic Texts
"The wooing of the sultan began when Kerry presented him with an antique book about Frederick Law Olmsted, the famed 19th-century Boston landscape designer." 
Observers Decide Moniz Would Swipe Right for Ali Salehi, Chief of Iran's Atomic Weapons Program
"If they were on an online dating site, they probably would have been matched together."
John Boehner Knows U.S. Can't Quit Israel
"At the end of the day, we need them and they need us. And OK, so you got two people who may not be in love with each other, but the fact is we're great allies and there's a lot going on in the world and we need each other." 
After Many Sappy Speeches, Everyone Cried
"When it was finally all over on Tuesday morning, and the seven foreign ministers gathered before their nations' flags at the United Nations offices in Vienna to seal the Iranian nuclear deal, emotions burst forth. … Laurent Fabius of France was buoyant. … Mohammad Javad Zarif of Iran was impassioned. … U.S. Secretary of State John Kerry spoke last and was ardent.  … His voice cracked. He stopped, collected himself and began again. … When he finished, the ministers applauded, something that hadn't happened during these talks. Other officials, including Iranian diplomats, were seen wiping their eyes."