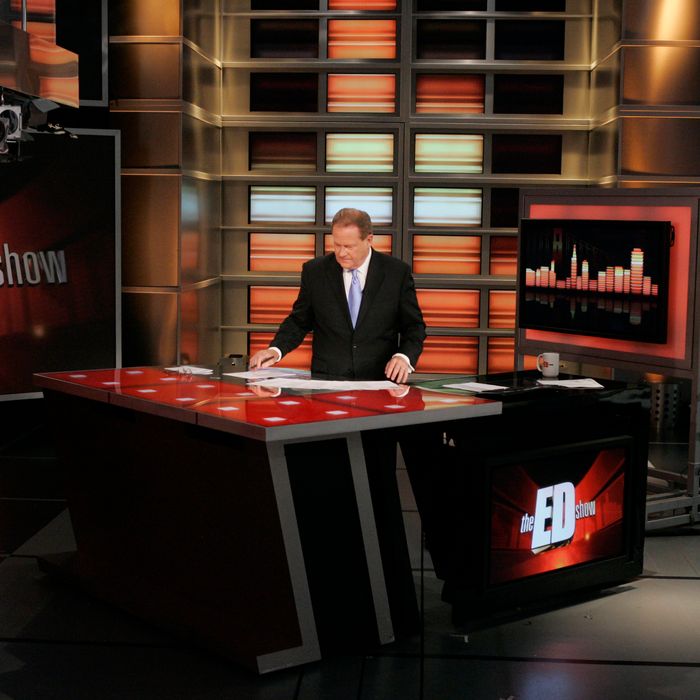 Ed Schultz hosts "The Ed Show."
Photo: Virginia Sherwood/NBC/NBCU Photo Bank via Getty Images
When asked about MSNBC's low ratings two years ago, Phil Griffin, the network's president, said they weren't even trying to compete with CNN's breaking-news coverage because "[w]e're not the place for that." But earlier this year, MSNBC decided that it probably should be the place for breaking news, not just (left-leaning) politics. The first step in the network's revamp came in February with the cancellation of Ronan Farrow Daily and The Reid Report, and on Thursday The Cycle, Now with Alex Wagner, and The Ed Show got the ax as well. Alex Wagner and The Cycle's Ari Melber will remain with the network, while Ed Schultz, The Cycle's Abby Huntsman, Krystal Ball, and Touré will exit.
Politico reports that in a memo announcing the changes, Griffin said the network will "unveil a 9 a.m. to 5 p.m. schedule" in September "driven by dynamic coverage of breaking news events that are shaping the day." The transition will also involve greater integration between NBC News and MSNBC, which was the original plan for the network before it was overtaken by liberal opinion shows. The tone of MSNBC's prime-time programming is expected to remain the same, but in September MSNBC will launch a 5 p.m. show hosted by Chuck Todd, and Brian Williams will make his return to broadcasting as "anchor of breaking news and special reports" on the network.
"Change can be hard," Griffin said. "There's no doubt it's been a difficult time, but we have exciting opportunities ahead." We're certainly excited about the opportunity to choose between Wolf Blitzer and Brian Williams for ostensibly "breaking" daytime news coverage.