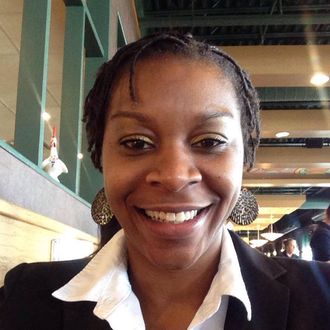 Waller County officials have released new footage of Sandra Bland at the jail where she later died. "The reason we're doing this is because of the misinformation that has been put out — both through social media and even through mainstream media — that has led to the rumors that Sandra Bland was in some way deceased, or harmed, or not well when she was brought in to the Waller County Jail," Waller County Judge Trey Duhon said at a press conference today, according to CNN. 
Science of Us tackled how some of these rumors have spread — and how they might be "a serious distraction from the many pressing law-enforcement issues raised by Bland's death" — on Monday. Duhon, who said that officials had also received some death threats, said the video had not been changed before being released, and that he knew plenty of people were still going to be skeptical of official statements about Bland's death. 
The various snippets of video show Bland arriving at the jail in a patrol car after being arrested at a traffic stop, sitting in the intake room — visibly emotional — taking her mug shot, being moved to a jail cell, and talking on the phone. 
Bland's death is still being investigated.