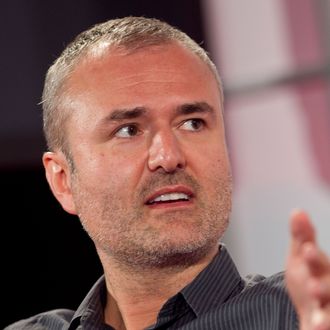 Nick Denton.
Photo: Andrew Harrer/Bloomberg/Getty Images
A day after denying that he wants to "Vox-ify Gawker," the company's founder and CEO admitted on Tuesday that he is interested in toning the site down. "It's regrettable what has happened," Denton told The Wall Street Journal. "But hopefully it will allow us to have a proper discussion about what Gawker should be in the future. I've wanted a gentler Gawker for a while." He said the site has continually evolved over the past 12 years, and he hopes to see it become a "guide to culture and for looking at the world by critiquing the way media presents it."
Denton was referring to the latest controversy to engulf Gawker Media (where, full disclosure, I previously worked as an editor at Jezebel). After the site posted an article that appeared to out a married Condé Nast executive last week, Denton and the other managing partners voted to remove it. The staff objected to what editor-in-chief Max Read called an "unacceptable and unprecedented breach of the editorial firewall," and on Monday Read and executive editor Tommy Craggs resigned.
As the folks at Gawker are not a private bunch, those interested in the current turmoil have been able to get much of their media gossip straight from the source. Tuesday's staff meeting was no exception: Leah Finnegan, the site's features editor, live-tweeted the event. Here are some highlights:
Later on Tuesday night, Twitter offered a sign that tensions may be cooling between Denton and the editorial staff … or at least a sign that the company is still willing to spring for meals: