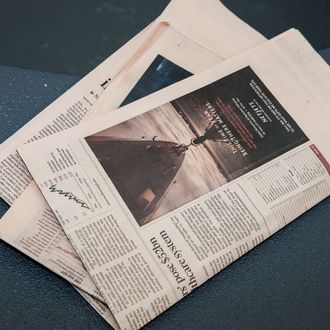 Earlier this week, Bloomberg reported that global education company Pearson was eager to sell the Financial Times, the pink-hued newspaper it has owned for 58 years. Today, Japanese media giant Nikkei said that it had bought the FT Group for $1.29 billion, according to Marketwatch. Pearson is not selling its 50 percent stake in The Economist or the FT headquarters in London.
Many wondered whether Michael Bloomberg was going to take over the FT; in 2013, he joked at the newspaper's 125th anniversary party that "people are always telling me I should buy the F.T. I buy it every day." German media company Axel Springer also talked to Pearson about buying FT Group; Reuters was also listed as a potential buyer. Pearson's former CEO, Dame Marjorie Scardino, said that the newspaper would be sold "over my dead body."
The company has lost a few big contracts in the U.S. in Texas and New York recently, and has been trying to focus more on improving its standing in the education world. Pearson shares — which have been falling for months — posted a slight increase this morning.