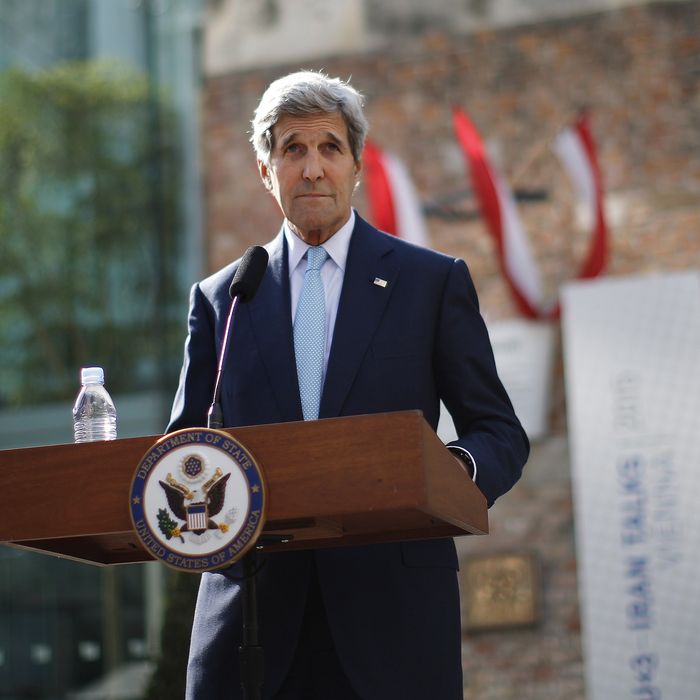 Secretary of State John Kerry in Vienna.
Photo: Carlos Barria/AFP/Getty Images
Secretary of State John Kerry said today that while there has been "genuine progress" toward a nuclear deal with Iran, it could still go "either way" at this late point in the negotiations, according to The Guardian. He also cautioned, "We are not yet where we need to be on several of the most difficult issues." With the self-imposed deadline approaching on Tuesday, Kerry is in Vienna attempting to finalize an agreement with Iran that would limit the country's nuclear program in exchange for relief from international sanctions, and his new statements come after a few days of cautiously optimistic news regarding the talks.
On Friday, Iranian foreign minister Javad Zarif said he thought the two sides were the closest they'd ever been to an agreement, while Al Monitor's Laura Rozen reported yesterday that other Iranian officials seemed bullish about the deal's prospects as well, with one claiming that the substantive talks have already progressed far beyond the framework deal reached in April.
In addition, the head of the International Atomic Energy Agency has announced that if they are allowed appropriate access by Iran's government, he believes the IAEA could finish their assessment of the country's nuclear capabilities by December, which would be an essential element to any deal. Furthermore, the Associated Press reported Saturday that Iran and the six world powers involved in the negotiations had finished a draft document that would address the contentious issue of how the pace of timing of sanctions relief would proceed, though, in that same report, U.S. officials hedged that there was still more work to be done, a sentiment echoed by Kerry today. Moving forward, foreign ministers from the U.K., Russia, France, and Germany are scheduled to join the talks tomorrow. Noted Kerry today, "If hard choices get made in the next couple of days and made quickly, we could get an agreement this week. But if they are not made, we will not."
Timing is key for the Obama administration, as if an agreement is reached by Thursday, July 7, Congress will only have 30 days to review (and build opposition to) the deal before any sanctions are reduced. If an agreement is reached after July 7, Congress will have 60 days. 
On the U.S. campaign trail, Hillary Clinton said at a college event on Friday night that she hoped the U.S. would reach an agreement by this week's deadline, and Chris Christie remarked yesterday that while he opposes the nuclear deal, he would not pledge to undo such an agreement if he is elected president. Save Rand Paul, who has supported continuing negotiations while opposing the lifting of sanctions, every other GOP presidential candidate is opposed to any deal with Iran, while statements from Democratic candidates have mostly been in support of the Obama administration's efforts. 
Meanwhile, back in Vienna, count brothel owners among those hoping the deal gets further delayed. Reuters reports that with negotiations under way in the city, business for brothels (which are legal in Austria) has been "booming." One local brothel manager "declined to say who were his most frequent customers, but made clear that, as far as he was concerned, the longer the negotiations between Iran and six world powers drag on, the better." Finally, something Austrian brothel owners, hawkish American lawmakers, Iranian hardliners, and Israeli prime minister Bibi Netanyahu can all agree on.