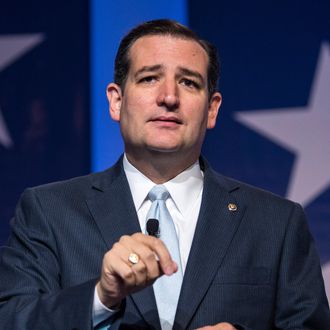 Would-be bestselling author Ted Cruz.
Photo: Andrew Burton/Getty Images
Conservatives are always angry at the New York Times, but they're particularly irate tonight because the paper is refusing to put Ted Cruz's book A Time for Truth on its best-seller list. The book sold 11,854 copies in its first week, according to Nielsen BookScan, which is more than all but two of the books on this week's list.
According to Twitchy, many on the right considered this proof that the Times is biased against Republicans:
Is it possible that the Times has taken desperate measures to prevent Americans from learning the awesome truths contained within Cruz's book? Sure. Though, on the other hand, books by Ann Coulter and Fox News' Dana Perino managed to make the cut, and the paper told Politico's Dylan Byers that the issue was A Time for Truth's suspicious sales patterns:
"We have uniform standards that we apply to our best seller list, which includes an analysis of book sales that goes beyond simply the number of books sold," Times spokesperson Eileen Murphy explained when asked about the omission. "This book didn't meet that standard this week."

Asked to specify those standards, Murphy replied: "Our goal is that the list reflect authentic best sellers, so we look at and analyze not just numbers, but patterns of sales for every book."
The Times has never released its exact methodology for compiling the best-sellers list. Book Review staff editor Gregory Cowles has said the formula is "a secret both to protect our product and to make sure people can't try to rig the system." Yet in the past few years there have been several controversies over authors who essentially bought their way onto best-seller lists by paying services to buy their books in bulk. When asked to elaborate on why Cruz's book was rejected, Murphy told Politico, "In the case of this book, the overwhelming preponderance of evidence was that sales were limited to strategic bulk purchases."
Since the paper won't release its formula, it's impossible to verify that this is the reason for Cruz's exclusion. If you were planning to vote for whichever non-Clinton 2016 candidate placed highest on the New York Times best-seller list, adjust your plans accordingly.