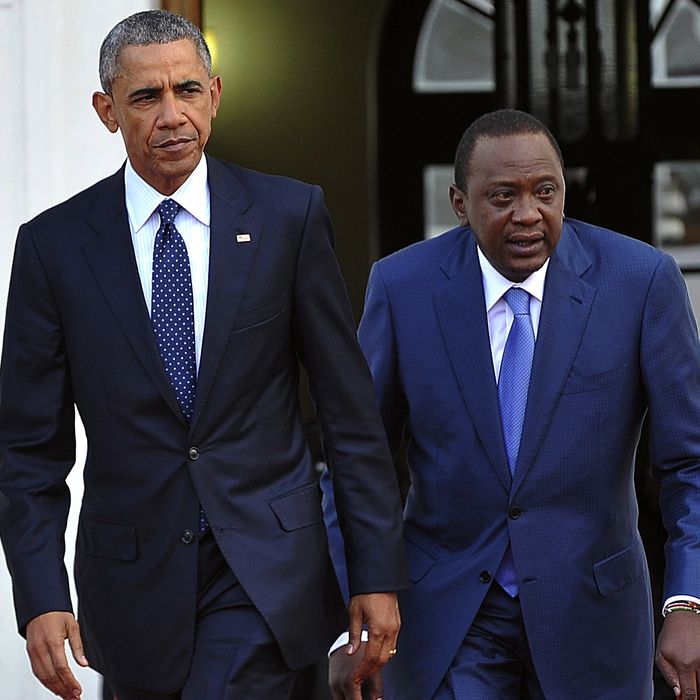 President Barack Obama and his Kenyan counterpart Uhuru Kenyatta arrive at a press conference on July 25, 2015 at the State House in Nairobi.
Photo: Simon Maina/AFP/Getty Images
In the first half of a two-day visit to Kenya, President Obama delivered both praise and criticism at a few appearances in Nairobi Saturday, on one hand declaring that "Africa is on the move" and encouraging greater foreign investment, while on the other hand urging more democracy, human rights, and equality for women, gays, and lesbians, according to the Associated Press. Obama is the first sitting president to ever travel to Kenya, and his visit had been greatly anticipated by Kenyans, who consider him a native son. (Obama's not, though he did make a birther joke Saturday night at a state dinner.)
During a televised joint press conference with Kenyan president Uhuru Kenyatta, Obama challenged the popularly supported discrimination against gays and lesbians in Kenya and other African nations. Homosexuality is illegal in Kenya and punishable by up to 14 years in prison, and The Guardian notes that 9 in 10 people disapprove of same-sex relationships. In addition, many other forms of discrimination are employed against gay people in Kenya and throughout Africa. And although many in Kenya had been warning that any discussion of gay equality would be unwelcome on the trip, Obama waded in anyway, comparing the plight of gay and lesbian Africans to that of African-Americans when they endured slavery and segregation in the U.S., and he said that as an African-American himself, he was "painfully aware of the history when people are treated differently under the law." Added Obama, "If somebody is a law-abiding citizen who is going about their business and working in a job and obeying the traffic signs and doing all the other things a good citizen is supposed to do and not harming anybody, the idea that they are going to be treated differently or abused because of who they love is wrong, full stop."
President Kenyatta waved off the criticism, saying that gay rights were "not really an issue on the foremost mind of Kenyans," adding, "There are some things we must admit we don't share, our culture, our society don't accept. It's very difficult for us to impose on people that which they themselves do not accept." Some in the Kenyan audience applauded Kenyatta's remarks.
The topic of security was a big issue as well on Saturday, with Kenya having suffered devastating terrorist attacks at the hands of the regional terrorist group al-Shabab in recent years, including an assault on a university in April that killed almost 150 people. Obama and Kenyatta reportedly discussed increased counterterrorism cooperation, though Obama also warned his counterpart that efforts to combat terrorism shouldn't come at the expense of democracy or human rights in Kenya. In addition, Obama worried about Kenya's post-election violence in 2007, which resulted in some 1,200 deaths and led to the International Criminal Court filing charges against Deputy President William Ruto and President Kenyatta, though the charges against Kenyatta were subsequently dropped. 
In an earlier speech at the Global Entrepreneurship Summit, Obama praised Kenya's economic growth and announced that more than a billion dollars in investment had been raised by the U.S., foreign banks, foundations, and philanthropists in order to spur entrepreneurship in the region. This was the first time the annual summit had ever been held in Sub-Saharan Africa, and the event was co-hosted by President Kenyatta. Two dozen U.S. lawmakers and a few hundred American investors have joined the president on the trip. 
Obama praised Kenya, which has East Africa's largest economy, for making "incredible progress" since his last visit, and insisted that the growth could come even faster if foreign investors paid more attention to the country, along with other benefits, noting that, "Entrepreneurship offers a positive alternative to the ideologies of violence and division that can all too often fill the void when young people don't see a future for themselves." (Half of the billion-dollar investment Obama announced will go to help the business efforts of women and young people.) Obama also encouraged governments in the region to help businesses by enforcing laws and fighting corruption.
After arriving Friday night, the president had dinner in Nairobi with dozens of his Kenyan relatives, including his half-sister Auma and his oldest living relative, step-grandmother Mama Sarah. Said Obama during his summit speech, "I'm proud to be the first U.S. president to visit Kenya and obviously this is personal for me. There's a reason why my name's Barack Hussein Obama." Unlike his previous visits to the country, however, Obama will not be able to make the trip to his father's village due to logistical concerns.
Following the summit, Obama visited an innovation fair where he examined solar energy technology and championed his Power Africa initiative and other efforts to boost Africans' access to electricity. Obama also visited the site of Al Qaeda's 1998 truck-bomb attack on the U.S. Embassy in Nairobi, laying a wreath in front of a memorial wall that displays the names of the 12 Americans and more than 200 Kenyans killed in the attack.
Finally, as a small example of how proud and excited many in Kenya are about Obama's visit, the AFP reports on a new baby-naming phenomenon in the country, noting that "two Air Force Ones were among eight children born on Friday night at Kisumu Jaramogi Oginga Odinga Referral Hospital and named after Obama." One of the mothers said, "I have been told that it is the best aeroplane because it carries a very powerful leader of America who is also a Kenyan."
This post has been updated throughout.