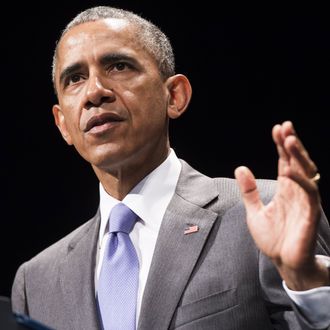 Photo: Saul Loeb/AFP/Getty Images
President Obama announced on Monday that he has commuted the sentences of 46 nonviolent drug offenders who would have faced far shorter stints in prison if convicted today. On the White House website, counsel to the President Neil Eggleston wrote, 
"These men and women were not violent criminals, but the overwhelming majority had been sentenced to at least 20 years," Obama added in a video message. "14 of them had been sentenced to life for nonviolent drug offenses, so their punishments didn't fit the crime." The White House has commuted 89 sentences during Obama's presidency — a small fraction of the thousands of inmates who have applied, although more than any president since Lyndon B. Johnson. The White House plans to focus on criminal-justice reform this week; Obama will be speaking at NAACP's annual conference on Tuesday and will visit a prison in Oklahoma on Thursday. It's a good time to focus on the issue — opinions on the effectiveness of harsh sentencing guidelines and mandatory minimums are changing across ideologies — an event on criminal-justice reform earlier this year attracted Republican super-donors, progressive think-tankers, and politicians and advocates from both parties. 
Obama plans to issue more commutations in the remainder of his term — according to the New York Times, the White House has asked the Justice Department to send over applications at a brisker pace.