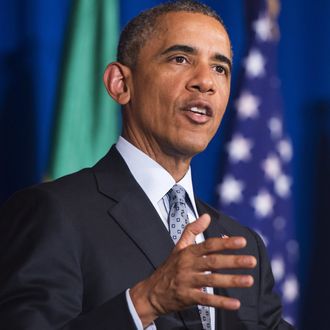 Photo: SAUL LOEB/AFP/Getty Images
While discussing democracy during his last speech in Ethiopia on Tuesday, President Obama jokingly graded his presidency — Certified Fresh — and his imaginary 2016 chances. 
"I actually think I'm a pretty good president," he said. "I think if I ran, I would win."
"But," he added, "I can't."
He went on to promote the American style of government, noting that some African leaders "change the rules" to stay in office and only see their power end because of death or coups. "The point is," Obama said, "I don't understand why people want to stay so long. Especially when they've got a lot of money."
He noted that he's "still a pretty young man, but I know that someone with new insights and new energy will be good for my country … Old people think old ways. You can see my gray hair, I'm getting old."
After the speech Obama was scheduled to return to the U.S., where the leading presidential candidates from his party are both older than him.