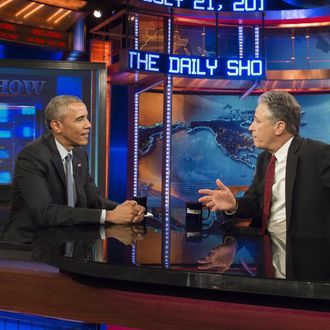 Photo: SAUL LOEB/AFP/Getty Images
When Jon Stewart made fun of the Obama administration, White House staffers were definitely watching, cringing, and perhaps taking notes. "I can't say that because Jon Stewart was unhappy policy changed," former adviser David Axelrod, who emailed and called Stewart occasionally, told Politico. "But I can say that he had forceful arguments, they were arguments that we knew would be heard and deserved to be answered."
Politico also reported that the White House wasn't always reacting to Daily Show sketches. Sometimes they might have had the president, who went on The Daily Show seven times, pitch story ideas — or at least explain the administration's thinking — right to the host.
Stewart met with President Obama twice at the White House. Former White House official Austan Goolsbee — who stays in touch with a former Yale classmate who now works at The Daily Show — told Politico, "The White House itself was quite interested in at least explaining its side of the story to Jon Stewart, up to and including the president." The idea could have had some merit; an Annenberg Public Policy Center study from last year showed that people who watched the Colbert Report were far more knowledgeable about campaign finance than those who watched other news programs.
The story also noted that Stewart's politician fan club extends far beyond the executive mansion — and the Democratic Party. Senator John McCain compared Stewart to Mark Twain and said he doesn't "think that there's any doubt that with his 'comedy' that he had an effect on the workings of government." Former Republican National Committee chair Michael Steele said almost the same thing.
Across the board, politicians seem sad that they are about to lose their most reliable politician-to-20-something translator.