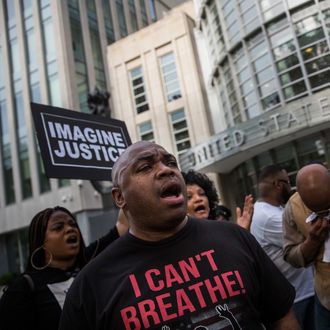 Protesters demanding further action against the police officers responsible in the death of Eric Garner gather outside the federal court house on May 29, 2015 in Brooklyn.
Photo: Andrew Burton/Getty Images
Friday marks the first anniversary of the death of Eric Garner, the 43-year-old Staten Island man who died during an attempted arrest for selling loose cigarettes. In December a grand jury voted not to indict NYPD Officer Daniel Pantaleo, who put Garner in a fatal choke hold, but for all those involved, the case is still far from settled. According to the AP, the Justice Department is still considering whether to bring civil-rights charges against Pantaleo, and federal investigators reinterviewed witnesses in recent weeks. The NYPD's Internal Affairs investigation, which could result in the eight-year veteran losing his job, is on hold pending the results of the federal case.
Pantaleo is currently on desk duty, and because of the many death threats he's received, police guard his Staten Island home 24/7. Yet his attorney Stuart London told the Daily News on Saturday that he's eager to be back on the street. "The unbelievable part is this has not soured him one bit on doing law enforcement," London said. "It hasn't diminished his desire to help the citizens of this city."
Ramsey Orta, who shot the video that brought national attention to Garner's death, says he wishes he wouldn't have made his name public, but he has no regrets about releasing the footage. "It shined some light on stuff that was happening," he told the Daily News. "It was a good thing. Now people are opening their eyes to what's going on with some officers." He added that he supports Garner's family and hopes they will keep pushing for federal charges. "I just hope they do what they have to do to get past this," Orta said. "But I don't want them to give up on the case. I don't think they will."
Gwen Carr, Garner's mother, said the family is still struggling and she wants to "see all of those officers stand trial and stand accountable for their gross misconduct." She recently retired from her job as a train conductor and told NY1 she's been traveling across the country to support the "Black Lives Matter" movement, which her son's death helped spur. "I'm learning about things that I've never known about before," Carr said. "So I'm doing this for myself as well as other families. There are some families that didn't get high profile like my son's case did and they're in just as much pain and agony as I am."