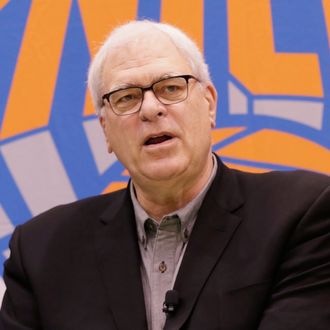 Phil Jackson.
Photo: Steven Freeman/NBAE/Getty Images
Last season, the Knicks traded J.R. Smith and Iman Shumpert to the Cavs as part of a three-team deal. It was seen as a straight salary dump for a team that's rebuilding, and after the trade went through, Knicks president Phil Jackson said all the things you'd expect him to say about needing to find players that fit the Knicks' system and getting some financial flexibility as a result of the move. "As our journey moves through this season, we will search for the type of players that fit the style we hope to exhibit for our fans," Jackson said in a statement at the time. "Our desire is to improve our ability to compete. In addition, these transactions improve our flexibility to the current roster and the salary cap for future seasons."
But now, thanks to Charley Rosen, a former assistant under Phil Jackson who spent one day each month with him last season for a series of reports on ESPN.com, we know what Jackson really thought about the duo when he shipped them away. Rosen's fourth dispatch sees him spending time with Jackson in January, days after the trade of Smith and Shumpert. And Jackson forgoes the usual sports-executive clichés and says the sorts of things that generally only get leaked anonymously.
Here's Jackson on Smith:
"'J.R. had been exhibiting some delinquent behavior and had gotten into the habit of coming late to team meetings, or missing them altogether,' Jackson says."
And some more:
"'We talked about his statement to the press that our shooting guard depth was going to be the team's asset, but so far it hadn't worked out that way,' Jackson says. 'He was supposed to carry the scoring load for the second unit and he wasn't doing the job. I also said that because of his unacceptable behavior, he had two strikes against him with this team. He didn't really respond. He's a very sensitive guy, with his big doe eyes. He looked like he was going to tear up. But he finally responded that he was going through some issues with his gal.'"
And here's Jackson on Shumpert:
"'After he suffered a hip injury in Dallas, his game went rapidly downhill. Did he have any other issues to explain his decline? He said, 'No. I don't know what has gone wrong with my game.' As with J. R., nothing got resolved.'"
Plus:
"'I like Shump,' says Jackson, 'but he has a very loud, big personality. It was difficult for most of the other guys to deal with, especially if things don't go well for him or the team.'"
Jackson also spoke to Rosen in January about Samuel Dalembert, whom the Knicks had recently waived. Writes Rosen:
"The other nuisance, according to Jackson, was Sam Dalembert, who had fallen asleep in the pregame locker room sessions."
From a fan's perspective, it's interesting to learn about the sorts of things that go on behind the scenes and cause players to fall out of favor with management. But from a player's perspective, it hardly makes the Knicks an attractive destination, knowing that such issues may eventually surface when Jackson's feeling chatty.