Migrants cross a bridge over the railway tracks of the Eurotunnel terminal on July 28, 2015 in Calais-Frethun, northern France. Attempts by migrants desperate to reach England through the Channel Tunnel reached a new peak overnight July 27/28, as about 2,000 migrants tried to enter the Eurotunnel terminal in the French port town of Calais.
Photo: Philippe Huguen/AFP/Getty Images
In France's Port of Calais, thousands of migrants — including many refugees from Africa and the Middle East — have set up camp not far from the entrance to the Channel tunnel, which connects France and Great Britain. They are waiting for the chance to climb on or under a truck or train car headed to the other side. About 1,500 attempted the crossing Tuesday night, and at least one man died in the attempt. French authorities said he was a Sudanese refugee, probably in his late 20s, who was caught under and crushed by a truck getting off the cross-Channel ferry.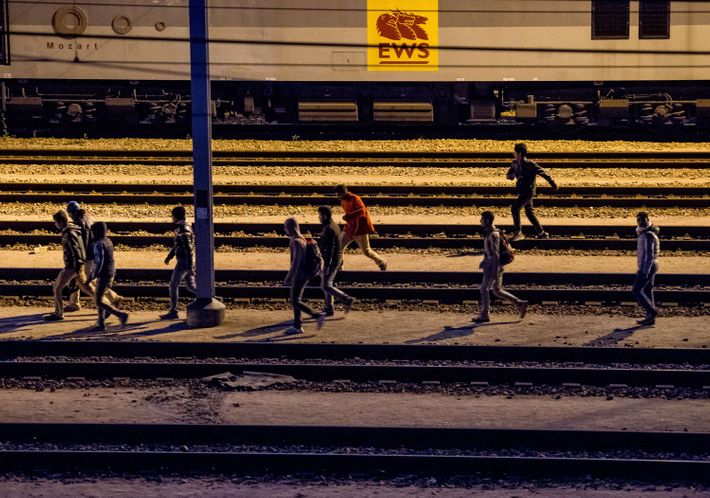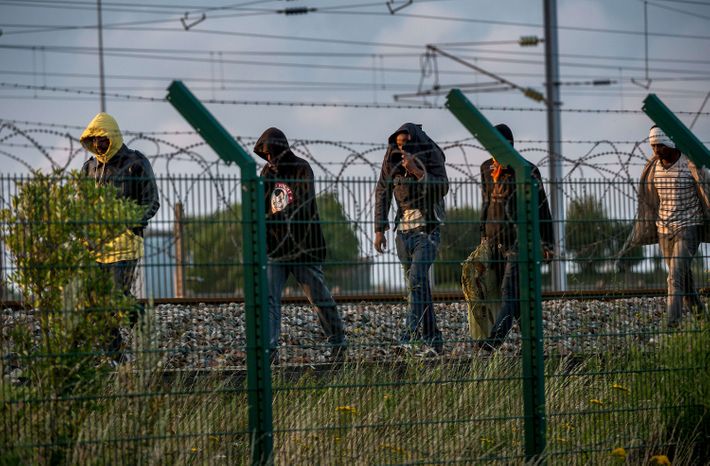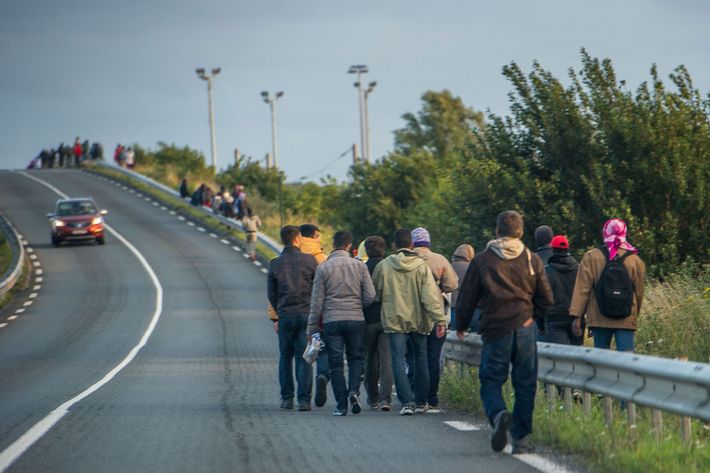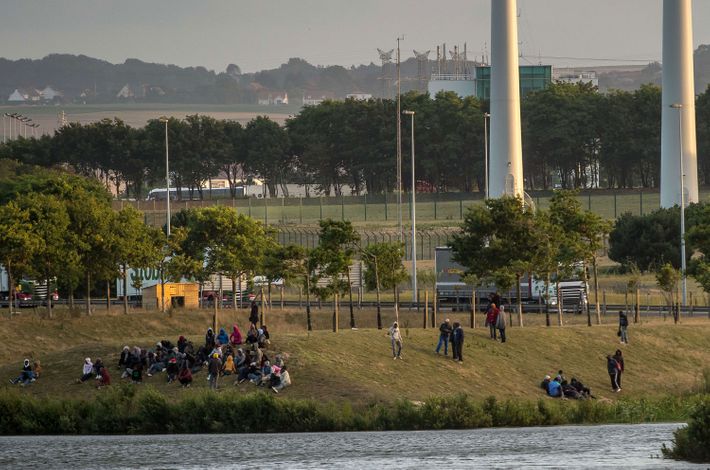 This is the latest flash point in the refugee crisis unfolding in Europe. Nearly 2,000 migrants also charged the Eurotunnel Monday night, leaving two refugees hurt after being hit by trains. The BBC reports that Tuesday's death was the ninth migrant killed in a tunnel crossing since June of this year, and hospital officials in Calais are saying injuries are soaring as migrants use riskier and riskier methods to try to evade authorities. Tunnel officials also said Wednesday that they've prevented about 37,000 crossing attempts by migrants since January.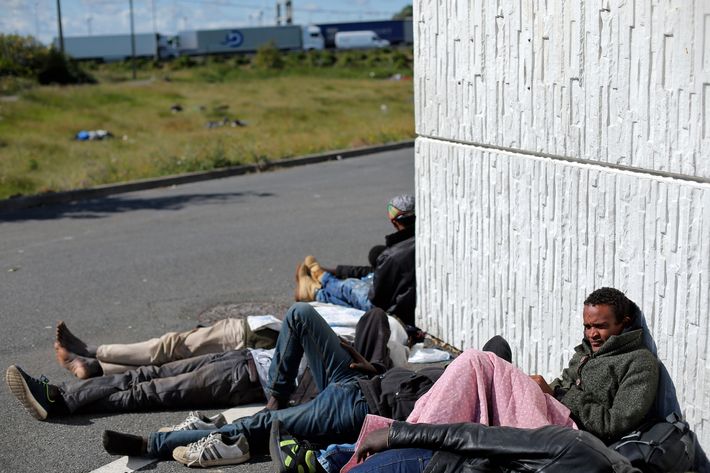 Authorities estimate about 3,000 people are camped out in the Port of Calais — though the Eurotunnel, as the Channel tunnel is formally known, puts that number closer to 5,000. The migrants live in an unofficial but "tolerated" settlement known as "the Jungle," reports The Guardian. French officials destroyed some camps in May 2014, but more people keep streaming in, many fleeing violence and poverty in places such as Ethiopia, Sudan, Eritrea, as well as Syria and Afghanistan. "We are trying to get on the lorries, but we never make it," a young Syrian boy, who escaped with his mother tells a Guardian reporter."Every time we try the police catch up."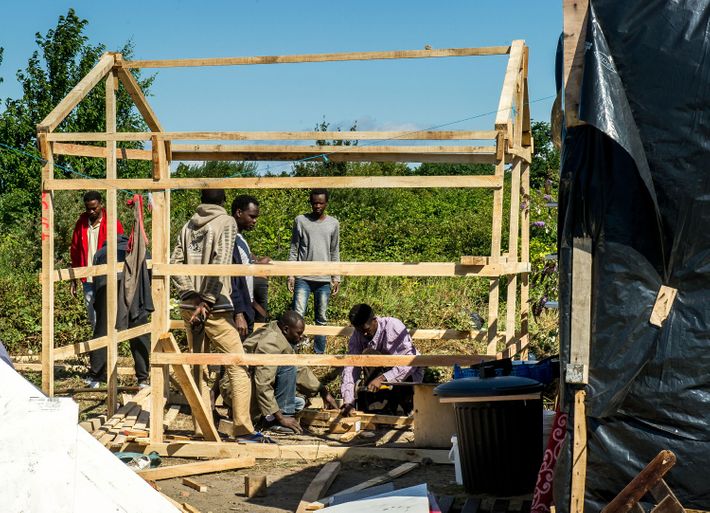 British officials have implemented "Operation Stack," a lockdown protocol usually used for bad weather. Trucks are parked and immobile along the tunnel routes, snarling traffic and affecting commerce, as it's delaying truckers from delivering products.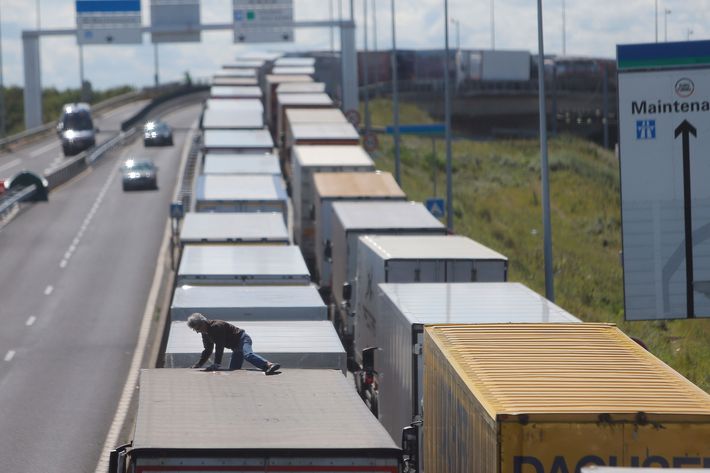 British and French officials are cooperating on how to best tackle the humanitarian and security crisis. Great Britain is pledging an additional 7 million pounds (nearly 11 million dollars) to amp up security, and Prime Minister David Cameron, who is traveling, called for an emergency council meeting and said Britain is installing fencing at certain entrance points.
Increased security measures, though, may not deter many of the migrants in the Jungle. "If you send me home, you kill me," one Eritrean refugee told The Guardian. "It is better to die here."