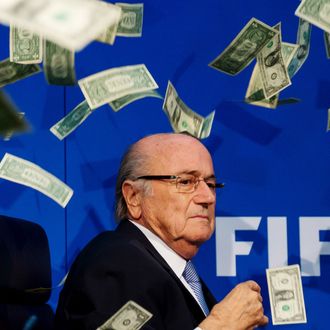 Sepp Blatter.
Photo: Philipp Schmidli/Getty Images
Sepp Blatter announced last month he'd be resigning as president of FIFA, but for the time being, he's still in charge, and his press conference in Zurich today took a turn for the bizarre. British comedian Simon Brodkin, who goes by the stage name Lee Nelson, crashed the proceedings, and put what The Guardian called a stack of fake bank notes onto the table in front of Blatter. "This is for North Korea 2026," Brodkin said, in reference to a nonexistent bid to host that year's World Cup. Blatter called for his security, and as Brodkin was whisked offstage, he threw a second handful of fake cash onto the stage, showering Blatter in bills.

Via the BBC, Brodkin has a reputation as a prankster. He interrupted Kanye West's Glastonbury set last month, and in 2014, he attempted to board Team England's plane to the World Cup in Brazil.
In other Blatter news, by the way, the date has been set for FIFA to elect his replacement. It'll be a while still, though: The vote is scheduled for February 26 of next year.