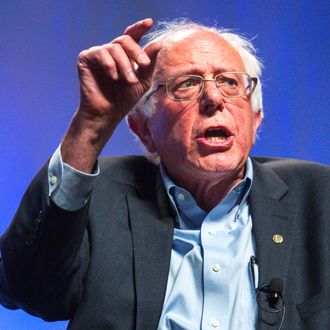 Photo: Charlie Leight/Getty Images
At Netroots Nation today in Phoenix, Arizona, a town-hall-style forum featuring Democratic presidential candidates Martin O'Malley and Bernie Sanders was derailed by "Black Lives Matter" protesters, who took over the event for a time and then repeatedly drowned out or heckled the candidates when they tried to speak. In response, the candidates and event organizers tried to walk what was probably an impossible line between being sympathetic to the protesters' opinions and outrage, while also continuing the convention events as they had been originally structured. The forum was attended by a few thousand audience members and was one of the marquee events at this year's Netroots Nation, an annual convention for liberal activists.
The Associated Press and Guardian report that the ruckus began during the segment with Martin O'Malley, when a group of largely female, black protesters entered the convention hall and began chanting slogans. Protest leaders subsequently got up on the stage and took control, speaking out against police shootings, imprisoned black women, Arizona's racial history, and other topics related to social justice efforts. One of the leaders, Black Lives Matter co-founder Patrisse Cullers, said from the stage, "It's not like we like shutting shit down, but we have to. We are tired of being interrupted."
The initial, chaotic scene unfolded for more than 20 minutes, as moderator Jose Antonio Vargas attempted to get the Q&A with O'Malley back on track, and then O'Malley tried to carefully answer questions posed by the protesters, though he was repeatedly interrupted. ("We don't want you to generalize this shit!" a protester shouted at O'Malley at one point.) While the forum was unraveling, event organizers even tried to apologize to O'Malley via a screen near the stage. Making matters worse, near the end of his appearance, O'Malley responded to the fracas by saying to the crowd, twice, "Black lives matter. White lives matter. All lives matter." That didn't go over so well, and as O'Malley's allotted time ended to scattered boos, he finished by awkwardly joining the protesters in the chant of "black lives matter." Blue Nation Review reports that O'Malley, at a roundtable discussion later in the day, called his "white/all lives matter" comments a mistake. "I shouldn't have said it," he added.
During the next interview scheduled during the forum, this time with Bernie Sanders, the interruptions continued. As the senator tried to give his opening remarks, chants of "black lives matter," "save our men," and "say my name" broke out. A clearly frustrated Sanders responded by saying "Black lives of course matter. I've spent 50 years of my life fighting for civil rights and dignity, but if you don't want me to be here that's okay. I don't want to out-scream people."
Here's a Vine that captures that dynamic:
The Washington Post reports that whenever Vargas and Sanders tried to cover issues other than criminal justice reform, the chants would start back up again. When Vargas told Sanders that they had to wrap up the conversation, which organizers decided to end 15 minutes earlier than scheduled, Sanders responded, "Okay, good."
The National Journal's S.V. Date explains what happened after the forum was halted:
The protesters held a victory rally of sorts afterward. "People only yell when they feel they're not being heard," said one.

Ashley Yates, an activist who came to prominence in St. Louis during the riots there last year following the police shooting of a black man, was among the leaders of Saturday's protest. "We're telling you that black America is starved for resources and we are in a state of emergency," she said. As to whether the disrupted discussion would make it harder for Netroots to attract presidential candidates in the future, Yates said: "That's Netroots' question to answer."

For its part, Netroots declined to criticize the protest. "Although we wish the candidates had more time to respond to the issues, what happened today is reflective of an urgent moment that America is facing today," the group said in a statement.
BuzzFeed reports that two progressive groups involved in the convention have issued statements backing the protesters' actions as well.
Netroots Nation began in 2006 as a meeting for members of the liberal web community Daily Kos and grew to become a major annual convention for liberal activists. During the presidential primary cycle in 2007, virtually all of the Democratic candidates spoke at the convention. This year, only O'Malley and Sanders made the trip. Hillary Clinton, who was booed the last time she went in 2007, chose not to attend this time around.
Here is the O'Malley segment of today's forum (protest starts at the 19:39 mark):
And here is the Sanders segment: