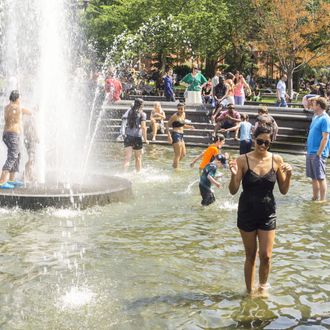 Photo: Richard Levine/Demotix/Corbis
Get ready to stay sweaty: As hot as Tuesday has been, Wednesday is expected to be even hotter — possibly the hottest day of the year. Temperatures are projected to hit 95 degrees, though it will probably feel closer to 100 once the oppressive humidity is factored in.
The National Weather service has issued a heat advisory for the New York City area that's in effect through Wednesday evening. Daily Intelligencer asked NY Metro Weather's John Homenuk for more detail about this episode of meteorological unpleasantness and what to expect for the rest of the summer. 
Will we actually hit 100 degrees in New York City?
No, it's not going to hit 100. It will feel like 100. We have the hot-air mass, but the wind is more variable. It's not going to make it cool out, but I highly doubt New York City hits 100 degrees.
Is this the first official heat wave of the year?
At a lot of reporting stations, not including Central Park, last week was a heat wave — that is, three straight days of temperatures over 90 degrees. But Central Park was a couple of degrees colder than everywhere else, so it was kind of borderline.
What's the meteorology behind it?
This summer there's been a big ridge over the central United States — a heat ridge. Every seven days over the last month or so, the ridge has collapsed to the east and we're getting the remnant heat zone.
Looking ahead to August, do you have any predictions of how the rest of the summer is going to play out?
Most of our forecast models in the medium- and long-range are trending toward cooler than average temperature. I still think we'll see plenty of days that are warm and humid and summerlike, but over time, the effects of El Niño will start to become more apparent as we head toward the summer and into the fall, and the periods of colder-than-normal temperatures will start to be longer in duration. In general, I think the pattern that starts to develop is one where cooler than average temperatures are going to become more normal than these 95, 100 degree days.
This interview has been lightly edited and condensed.