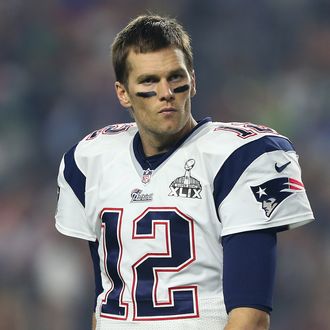 Tom Brady.
Photo: Elsa/Getty Images
Tom Brady, as you'll recall, was suspended for four games for his involvement in the Patriots' ball-deflation scandal — a decision he's appealing with the league. A ruling could come down this week, but in the meantime, a report says Brady and the NFLPA intend to sue the league if his suspension isn't overturned completely.
Here's Ryan Smith, a legal analyst for ABC and ESPN:
Albert Breer, a reporter for the NFL Network, says Brady met with the NFL players' union on Monday, and that his plan is to file the suit in either Massachusetts (where he's an icon) or Minnesota (a labor-friendly court).
Roger Goodell himself will decide whether to uphold, reduce, or throw out Brady's suspension, and while the threat of a suit could be an intimidation tactic, the NFLPA has used the courts in the past as a way to challenge what amounts to Goodell's absolute power over NFL business.
A lawsuit could make sense from a football perspective as well. As Deadspin explains, Brady can continue to play until the case is either heard or thrown out. The site points to a suit brought by suspended Minnesota Vikings players that took three years to wend its way through the courts. Considering Brady will be 38 when the 2015 season begins, the longer he can put off a potential suspension, the better.