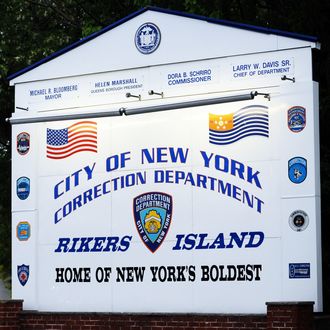 Photo: Jewel Samad/AFP/Getty Images
Well-behaved inmates at Rikers Island are getting $25 a week under a pilot program launched earlier this month by Correction Commissioner Joseph Ponte, the Daily News reports today. The program, which also calls for monthly pizza parties, is called Adolescents Striving for Change and is meant to instill a sense of responsibility and accountability in inmates. It's also opposed by some officials inside the prison.
Correction Officers Benevolent Association President Norman Seabrook told the Daily News that he doesn't approve of rewarding criminals for good behavior. Instead, he'd like to see bonuses handed out to those who turn over contraband. A union official for "top jail bosses" also told the paper that he opposes the program, preferring instead to see the money go toward building inmate skills.
Ponte, the former head of the Maine Department of Corrections and a warden in six other states, has seen similar programs reduce inmate violence before in Massachusetts and Maine. So far, those allowed to participate are either serving less than a year or awaiting trail, the Daily News says. They're able to earn $5 a day if they don't fight, keep a clean living area, don't act out in class, finish "work detail assignments," and comply with searches and counts.
Housing areas that are incident free for 30 days become eligible for the big prizes, including the aforementioned pizza party and movie nights. And it's not just the inmates benefiting. Staff whose housing areas are incident free for 30 days get to dig around the "Officer's Grab Bag," which contains such treats as free breakfast and gift cards.