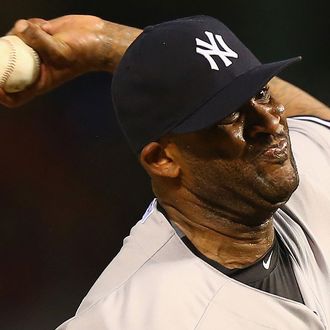 CC Sabathia.
Photo: Ronald Martinez/Getty Images
CC Sabathia didnt pitch very well for the Yankees in Texas last night, allowing nine hits (three of them homers) and five runs over five innings, in a game where the first-pitch temperature was 101 degrees. But things would get worse for the lefty after the game, when he was taken to the hospital with symptoms of dehydration.
A Yankees spokesperson said Sabathia hadn't shown any symptoms during the game, but cramped up while icing in the trainer's room after his night was over. He was taken to a nearby hospital as a precaution and didn't travel with the team to the next stop on their road trip. He was admitted to the hospital, though the team didn't provide any further update on his condition.
The start-time temperature was the highest of any big-league game this season, and even when Josh Hamilton ended the game with a walk-off RBI single some three and a half hours later, the temperature was still in the low 90s.
"It's just super hot out there," said Yankees catcher Brian McCann said. "We're not used to this. You come in, it's hot, you hope he's OK."
Sabathia wasn't originally even supposed to start the game: He'd been moved up a day in the rotation when Michael Pineda was placed on the 15-day disabled list. If not for that change, Sabathia would have pitched tonight in Chicago, where the game-time temperature is expected to be a more reasonable 82 degrees.