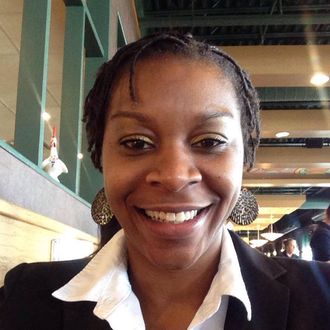 Sandra Bland, the woman who was found dead in a Texas jail cell after being pulled over for changing lanes without a turn signal, did not have any injuries that would show that she had been murdered. 
"In a violent homicide or a murder," Waller County Assistant District Attorney Warren Diepraam told reporters, "where one person takes another person's life, it is typical … to see some sort of injuries on the person's hands."
The only new injuries on Bland's hands were on her wrists; she had struggled while being handcuffed. There was a "uniform and consistent" mark on her neck. Bland also had about 30 scarred cuts on her left wrist, many that appeared to be about a month old, others mostly healed. She also appeared to have marijuana in her system; prosecutors are waiting on more tests before they can determine when it was ingested.
"I have not seen any evidence suggesting that this is a homicide," Diepraam said.
Her death was ruled suicide by hanging. MSNBC reported on Friday that the full autopsy and toxicology results for Bland will be released, given the attention and controversy surrounding the case. Although investigators will not conduct a second autopsy, Bland's family is conducting a separate one; the results have not been released. 
The County Sheriff's office released a jail-booking form from Bland's arrest on Wednesday that showed she had tried to commit suicide in 2014 after a miscarriage. She was not put on suicide watch during her time in jail. 
The Texas Tribune published a story today noting that funding for mental-health training for law-enforcement officials and the watchdog agency that keeps tabs on state jails is slim. 
"I think any advocate would tell you that the jail commission is not adequately resourced to do the kind of preventative inspections that we would like for them to do," said Matt Simpson, a senior policy strategist at the ACLU of Texas. Even though it's understaffed and underfunded, criminal justice experts said, simply having an independent agency that inspects and regulates local detention facilities is nonetheless rare in the United States. … Still, suicides remain a problem at Texas jails, accounting for 28 percent of deaths in custody. According to the jail commission, 140 people have killed themselves in Texas lockups since 2009. … Staffers at many county jails take a brief online training course for handling mental health crises, a minimum standard enforced by the commission. In its operational plan, the Waller County Jail had committed to additional mental health training, but given the volume of inmates with mental illness, many advocates say it's still not enough.
Alexandria Pyle was in Waller County Jail at the same time as Sandra Bland. She told ABC13 that "she seemed very distraught, but I don't know if I would say suicidal." She later told CNN that Bland "was calling and calling — and no one was answering, and then after that she just broke down. She was crying and crying."
ABC13 in Houston also released audio from a voice mail Bland left shortly before her death on Wednesday. She said she's "still just at a loss for words honestly at this whole process," adding, "How did switching lanes with no signal turn into all of this?" The message was meant for LaVaughn Mosley, a friend of Bland's who lived in Texas. "It was haunting and chilling, both," Mosley said of the voicemail in an interview with the Los Angeles Times. "I just had to relive everything that had happened, and to hear her voice after I knew she was gone. Part of it was the guilt because I hadn't listened to it." Mosely told the Times he was frustrated by the investigation's focus at this point. "Why aren't we asking the real hard questions, and not whether Sandra Bland smoked any marijuana?"
Bland's mother, Geneva Read-Veal, went on MSNBC to discuss the investigation on Thursday night. "I have confidence in God and knowing that he is in control and he is going to reveal the real truth," she said. "Confidence in man I do not have at this point."
Even though the autopsy is done, investigators aren't done looking into the circumstances of Bland's death. The traffic stop, in which Texas State Trooper Brian Encinia — now on desk duty — pointed a taser at Bland and said, "I will light you up," has been deemed a violation of the Texas Department of Public Safety's courtesy policy.  
A candlelight vigil for Bland was held outside the Texas State Capitol last night. Her funeral will be held at the DuPage African Methodist Episcopal Church in Lisle, Illinois, on Saturday, according to the Chicago Tribune. Prairie View A&M University, where she was supposed to start work earlier this week, held a memorial service for Bland on Tuesday. 
This post has been updated throughout.