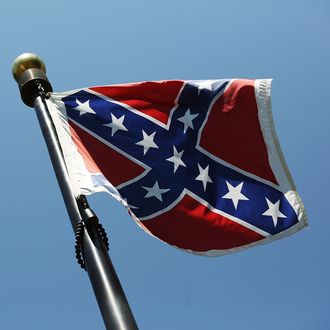 Photo: Joe Raedle/Getty Images
South Carolina's Republican-controlled Senate voted 37–3 to remove the Confederate flag from State House grounds today. The bill, which required a two thirds majority to pass, now moves on to the House and then Governor Nikki Haley, who has said she wants the flag gone. In 2000, the flag was removed from the Capitol dome in Columbia and placed next to a monument for Confederate soldiers. A bipartisan push to remove the flag began in the aftermath of the mass shooting in Charleston last month by a racist who proudly stood alongside it.
Calls to remove the flag began shortly after the massacre at Emanuel AME Church. South Carolina's prominent Republicans, including Haley and Senator Lindsey Graham, remained evasive on the topic until they joined forces on June 22, five days after the shooting, to call for its removal. Joining them was Senator Tim Scott, Representative Mark Sanford, and RNC head Reince Priebus, all Republicans. At that press conference, Haley said, "We are here in a moment of unity in our state, without ill will, to say it's time to remove the flag from the capitol grounds."

Getting the issue in front of the state legislature took some time, but when the Senate began debating the flag's presence today it was quickly clear which way things would go as senators from both parties gave speeches calling for it to come down. Before approving the bill, the Senate voted down three amendments, one that would have allowed the state's voters to decide the fate of the flag, another that would have allowed the flag to be flown on Confederate Memorial Day, and a third that would have replaced it with the First National Flag of the Confederate States of America. They also endured the inane ramblings of State Senator Lee Bright.
The bill is not expected to sail as easily though the House as it did through the Senate, though a poll by the the Post and Courier indicates that two thirds of House members do think the flag should go. As for the people of South Carolina, they're split down racial lines on the future of the flag. A poll taken last November showed that 73 percent of whites in the state thought the flag should continue flying on state grounds, while 61 percent of blacks thought it should come down.
Though the majority of the legislators seem to support the bill, many in the state remain steadfast in their insistence that the flag remain in the sky. Last week, South Carolina voters began receiving robocalls imploring voters to call their representatives to prevent the "leftist fanatics" from destroying the "South we love." As the call stated, "They've even taken Dukes of Hazzard off TV. What's next?"