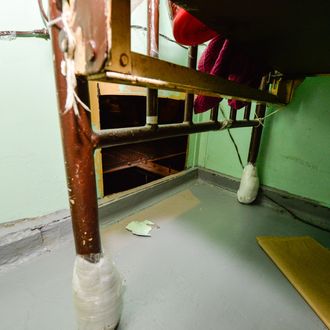 Photo: Darren McGee/New York State Governor's Office via Getty Images
The New York Times has a new story about the New York prison break; the most amusing revelation is that the internet's many Shawshank Redemption jokes were already stale before David Sweat and Richard Matt escaped. The 1994 film, which is probably playing on cable at this very moment, came up several times during Sweat's retelling of the escape from his hospital bed. Sweat — the only inmate left alive, now in solitary confinement in a different prison — spent days exploring the underbelly of the prison complex, searching for a tunnel that would lead to freedom. He thought that a sewer pipe would be his salvation and bring him one degree closer to Tim Robbins. Unfortunately for Sweat's cinematic aspirations, it was a dead end.
Sweat and Matt also used to joke, according to the Times, about their expected timeline for escape. While it took 20 years for the Shawshank characters to see the sun, they thought they could half that. In the end, the pair managed something even more impressive by escaping and getting caught in mere months. Hollywood would have made sure to spread out that much action over at least a few years.