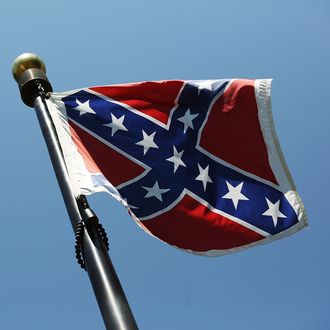 Photo: Joe Raedle/Getty Images
Surrounded by the families of the nine people killed three weeks ago in a Charleston church, South Carolina Governor Nikki Haley signed a bill today to remove the Confederate flag from state house grounds. It will be lowered tomorrow morning by cadets from the Citadel. "We are a state the believes in tradition. We are a state that believes in history. We are a state that believes in respect. So we will bring it down with dignity," Haley said. 
It was only at 1 a.m. this morning that the South Carolina State House voted to remove the flag by a vote of 94 to 20. The final tally came after a long day of debate and the consideration of more than 70 amendments, all of which were eventually cleared away. On Monday, the Senate, where Senator Clementa Pinckney once served, approved the bill without much debate.