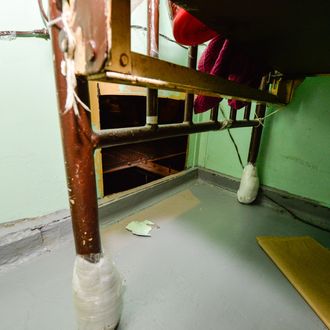 Photo: Darren McGee/New York State Governor's Office via Getty Images
David Sweat is still recovering from gunshot wounds in Albany, and has spent all his free time telling stories about the three-week prison break — and the months of planning that went into it. Sweat — the only person alive who knows the whole story — insisted that he was the brains behind the whole plan. Richard Matt, who was killed by Border Police last week and was the only half of the pair who had previous experience in breaking out of prisons, might have had something to contribute, although he is unable to contradict any of Sweat's recounting.
Investigators have not confirmed Sweat's account of the escape.
Sweat said that he and Matt began making a hole in a cell — with a hacksaw, no power tools — way back in January. They broke out of cells to case the joint a few times, and did a practice run of their escape the night before they disappeared. Sweat and Matt made it out of a manhole, before returning to their cells and planning to try a different manhole further away from houses the following night.
Twelve prison employees — including three executives — have been placed on paid administrative leave; the state's inspector general is looking into the circumstances that allowed the escape to happen; and the FBI has started an investigation into wider corruption at Clinton Correctional Facility. Joyce Mitchell and Gene Palmer were arrested for their alleged roles in the escape. 
Sweat also said that there were a few times he almost got caught earlier in June. He saw at least one law-enforcement officer walk past him as he hid in a hunting stand, and people once entered a cabin Sweat and Matt were in. The convicts eavesdropped on a conversation three people were having about whether it was a good idea to stay at the cabin or not.