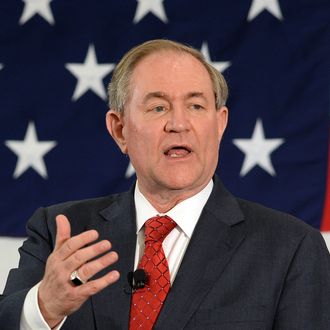 Former Virginia Gov. Jim Gilmore speaks at the First in the Nation Republican Leadership Summit April 17, 2015 in Nashua, New Hampshire.
Photo: Darren McCollester/Getty Images
If you're a right-leaning hipster who considers all 16 Republicans currently running for president a bit too mainstream, have we got the candidate for you. Former Virginia governor Jim Gilmore filed with the FEC on Wednesday, just eight days before the first GOP debate. Gilmore served as governor from 1998 to 2002 and was chair of the Republican National Committee in 2001, but he is such a long shot that he might not even qualify for the Fox News debate.
Those who don't make the top-ten candidates' prime-time debate on August 6 will have their own forum at 5 p.m. In an effort to ensure that even candidates polling at less than one percent will have a spot on the stage, this week the network said candidates who "are consistently being offered to respondents in major national polls" can participate. As Politico notes, Gilmore has only appeared in one of the last five national polls, and it's unclear if he'll be able to catch up in the next week. It's basically the presidential politics equivalent of starting your term paper the night before it's due.