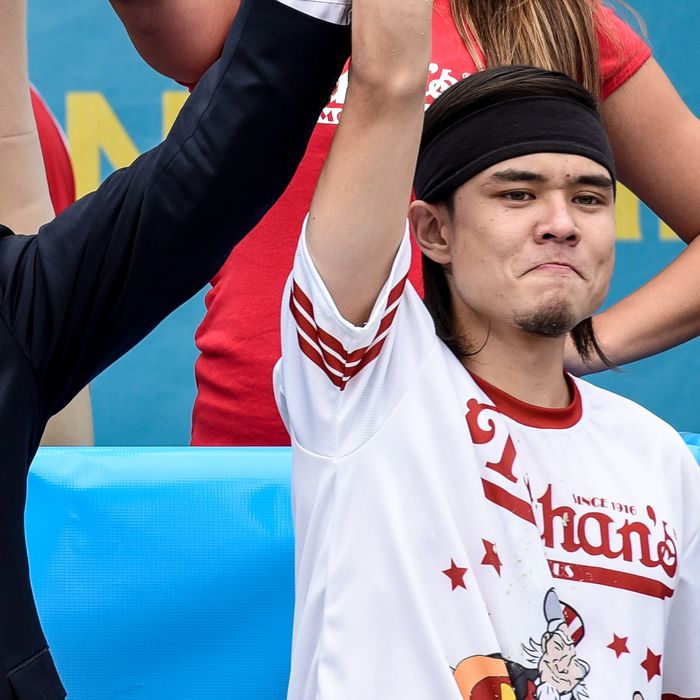 Matt "Megatoad" Stonie (right) after defeating Joey "Jaws" Chestnut (left).
Photo: Andrew Renneisen/Getty Images
After eight consecutive victories at Nathan's Famous Fourth of July International Hot Dog Eating Contest, Joey Chestnut has been defeated by Matt "Megatoad" Stonie, 62 dogs to 60, according to the Associated Press. Today's surprise upset in Coney Island marks the most dramatic news in competitive binge-eating since Chestnut defeated the previous longtime victor,  Takeru "Tsunami" Kobayashi, in 2007. Said Chestnut after his loss, "I just didn't find my rhythm," though he sees a silver (stomach) lining as well: "I've been looking for competition for a long time and I finally have it." Chestnut still holds the 69-dog record he set in 2013, a feat ESPN helpfully reenacted using a balloon and plunger:
The new victor, 23-year-old Matt Stonie, has been on the professional face-stuffing circuit since 2011, and he finished second in Nathan's contest last year. His "Megatoad" nickname is inspired by the Super Mario Brothers character Toad. Stonie also holds numerous world records in competitive eating, including birthday cake, bacon, Twinkies, and Canada's favorite artery-destroyer, poutine. The new hot-dog king is also a college sophomore majoring in nutrition, of course. Both Stonie and Chestnut are from San Jose, California. Stonie's parents are apparently very proud of his eating prowess, which they peg to his dietition studies. The San Jose Mercury News reports that in a 2012 interview, Stonie's mom gushed, "As part of his competitive eating, he really watches what he eats. He controls everything. He can recite all of this (nutrition) information off of the back of his hand."
In the women's competition, reigning champ Miko Sudo ate 38 dogs to retain her title against previous winner Sonya "Black Widow" Thomas. This year Sudo deployed the strategy of soaking her dogs in Crystal Light, which was probably not a product-placement scheme for the diet drink mix.