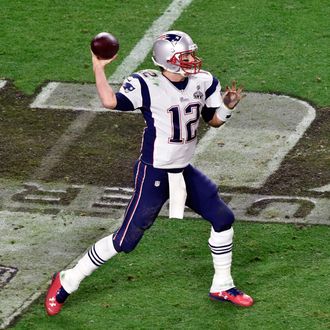 Tom Brady.
Photo: Focus On Sport/Getty Images
Yesterday, the NFL announced that commissioner Roger Goodell had upheld Tom Brady's four-game suspension for his alleged role in the Patriots' ball-deflation scandal. Today, Brady responded with a Facebook post not only proclaiming his innocence, but insisting that no one in the organization had done anything wrong.
From his post:
I am very disappointed by the NFL's decision to uphold the 4 game suspension against me. I did nothing wrong, and no one in the Patriots organization did either.

Despite submitting to hours of testimony over the past 6 months, it is disappointing that the Commissioner upheld my suspension based upon a standard that it was "probable" that I was "generally aware" of misconduct. The fact is that neither I, nor any equipment person, did anything of which we have been accused. He dismissed my hours of testimony and it is disappointing that he found it unreliable.
He also addressed the NFL's emphasis on the destruction of his cell phone, which the league said was new information that factored into its decision to uphold the suspension after Brady appealed:
I also disagree with yesterdays narrative surrounding my cellphone. I replaced my broken Samsung phone with a new iPhone 6 AFTER my attorneys made it clear to the NFL that my actual phone device would not be subjected to investigation under ANY circumstances. As a member of a union, I was under no obligation to set a new precedent going forward, nor was I made aware at any time during Mr. Wells investigation, that failing to subject my cell phone to investigation would result in ANY discipline.

Most importantly, I have never written, texted, emailed to anybody at anytime, anything related to football air pressure before this issue was raised at the AFC Championship game in January. To suggest that I destroyed a phone to avoid giving the NFL information it requested is completely wrong.
Brady (and anyone in his camp who may have helped him compose this post) realizes that the NFL won the news cycle yesterday by emphasizing that the quarterback had the cell phone he'd been using at the time destroyed — the "narrative" as he calls it. (Brady said he always does that when he gets a new phone.) And so he addresses the subject at length here, writing, "We even contacted the phone company to see if there was any possible way we could retrieve any/all of the actual text messages from my old phone."
Patriots owner Robert Kraft, who'd previously accepted the team's share of the punishment by the league, is standing by his quarterback: "I was wrong to put my faith in the league," he said. "Given the facts, evidence and laws of science that underscore this entire situation, it's completely incomprehensible to me that the league continues to take steps to disparage one of its all-time great players and a man for whom I have the utmost respect. Personally, this is very sad and disappointing to me." He also called out the league for making the story about Brady's phone, saying that this "was designed to capture headlines across the country and obscure evidence regarding the tampering regarding the air pressure of footballs" and "intentionally implied nefarious behavior and minimized the acknowledgment that Tom provided the history of every number he texted in that time frame."
The key line of Brady's post is this one: "There is no "smoking gun" and this controversy is manufactured to distract from the fact they have zero evidence of wrongdoing." Brady's argument is that without concrete proof he broke the rules, he shouldn't be suspended. It's why he also calls attention to the league's own careful wording that it was "probable" that he was "generally aware" of wrongdoing.
A Pro Football Talk Report today says the league offered to drop Brady's suspension to two games or even one game if he admitted he knew what Pats staffers John Jastremski and Jim McNally were doing to the footballs, admitted he failed to cooperate with the investigation, and apologized. But recent reports have said that Brady, who has maintained his innocence all along, wouldn't accept a settlement that included a suspension of any length.
Yesterday the NFL preemptively filed a complaint in a Manhattan federal court to confirm the suspension, as Brady and the NFLPA are widely expected to go to court to get the decision overturned. Judging by the quarterback's Facebook post, he's ready for a fight: "I respect the Commissioners authority, but he also has to respect the CBA and my rights as a private citizen," he writes. "I will not allow my unfair discipline to become a precedent for other NFL players without a fight."