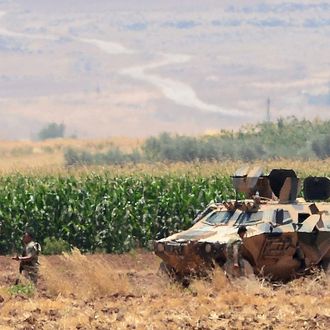 Photo: Fatih Aktas/Anadolu Agency/Getty Images
On Thursday, Obama administration officials announced they had made a "game changer" deal with Turkey, according to the New York Times. Turkish officials agreed to let U.S. planes use two of its air bases in the fight against ISIS in Syria, Turkey's less-than-cordial neighbor.
"This is a significant shift," one military official told The Wall Street Journal. "It's a big deal."
Hours later, Turkish planes launched strikes against Islamic State targets — reportedly three of them — in Syria for the first time. Police also detained suspected militants across the country's 13 provinces — rounding up more than 250 people. One Turkish government official told Reuters, "We can't say this is the beginning of a military campaign, but certainly the policy will be more involved, active and more engaged."
The change in policy — Turkey had previously been very reticent to actively fight the Islamic State, and declined to let the U.S. use air bases — comes days after more than 30 people were killed in a bombing in Suruc, a town on the border. ISIS was blamed for the attack. A Turkish soldier was also killed earlier this week after a cross-border gunfight. Or, as one Turkish official told the Journal, "In the end, we too have become the target for the ISIS."
"We have entered a very difficult struggle," Turkish President Recep Tayyip Erdogan — who has mostly been concerned about specifically fighting Syrian President Bashar al-Assad instead of the broader ISIS battle that the U.S. has worried about — told reporters, according to the Washington Post. Erdogan spoke to Obama on the phone on Wednesday to discuss ISIS and plans to stop the many foreign fighters who join up with ISIS by traveling through Turkey.
Turkey's seeming ambivalence about the ISIS fighters making way through its country on the way to Syria frustrated military officials in the U.S. and Europe endlessly. When Director of National Intelligence James Clapper was asked earlier this year about the possibility of Turkey doing more to fight ISIS during a congressional hearing, he said, "No, I'm not. I think Turkey has other priorities and other interests."
As the New York Times wrote in March, 
>